... who clearly didn't know how to dress himself
so he let his mother do it for him.
While all the other animals learned to surf or had girlfriends
he stared into tidepools and aquariums. He even worked in a shop and kept a few octopuses himself. Not octopi, mind. Can't mix Greek and Latin.
While getting his degree in marine biology from UC Santa Cruz, the octopus fell in with a bad crowd
of journalists, helped to found The Fish Rap Live student newspaper (still going!) and decided to become a writer. Dress sense remained a major problem.
While (allegedly) growing weed for a Hollywood A-lister to support his writing habit
The octopus even spent a weekend with the man himself
at the Esalen institute where Terence was the scholar in residence. This cost the octopus an arm and a half and even still he had to chop onions and sleep on the floor of the conference room. The octopus was teaching marine science to middle-schoolers at the time.
The octopus was very sad when Terence died and wrote an obituary for him in the Anchorage Daily
What happened next became a book!
(what happened next was the octopus smoked DMT, quit his job, chased a childhood dream to Egypt, hippified in India and washed-up in London where he performed spoken word for a year until what happened next became a book)
Dress sense continued to be an issue only now with white-man dreads. (Pete Doherty insisted on running around a whole block so he could be behind bars for this photo. True story.)
For A sample of his surprisingly not-terrible spoken word please
But the octopus won many slams, headlined shows and TPOM got some good reviews
(despite it needing loads more work the octopus says now with 20/20 hindsight as he releases the 20th anniversary edition for its second coming in this, the Kaliyuga, the last of four great Hindu ages when "even the prophets cannot be heard above the fray").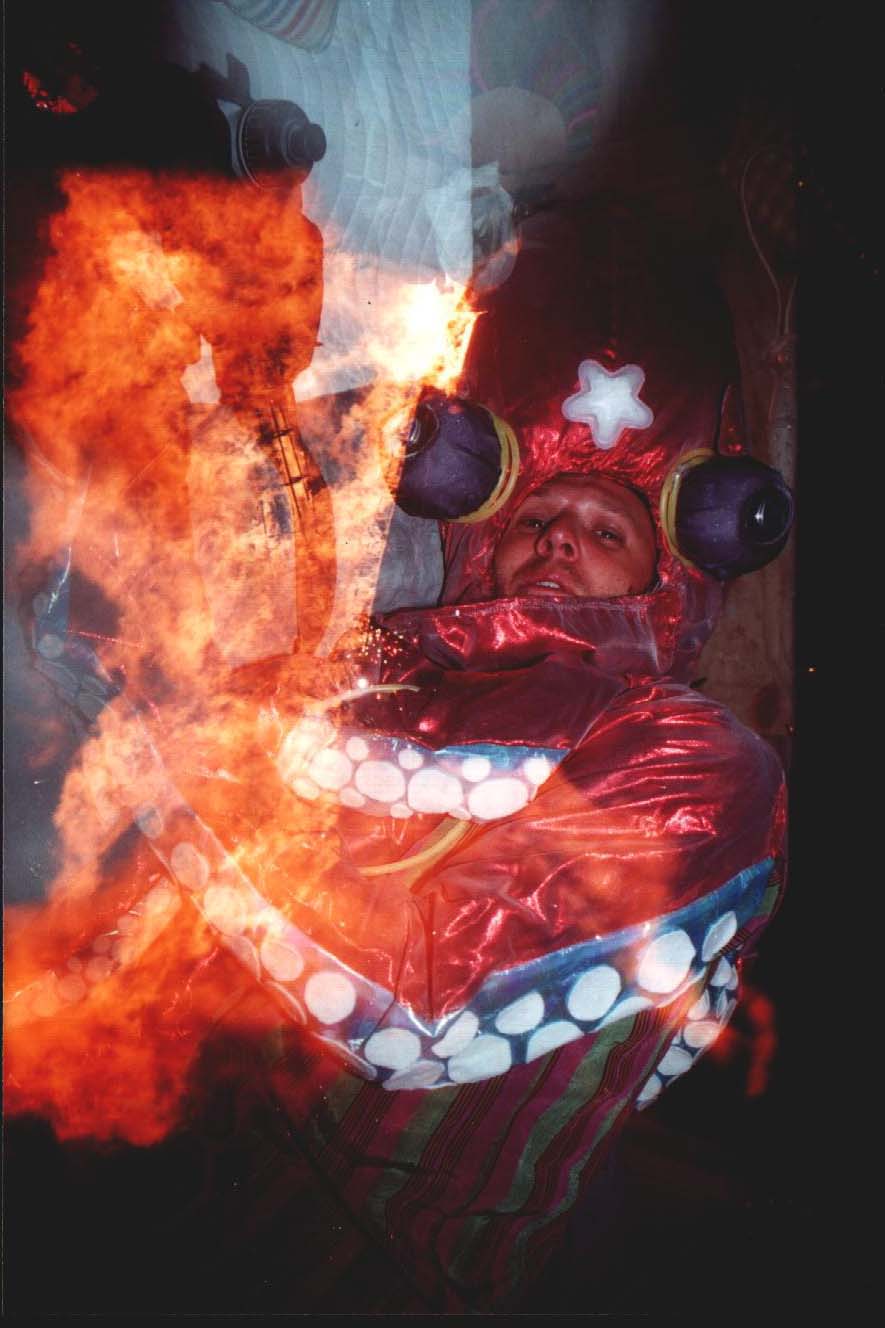 After two print runs the octopus' publishers sent him to promote it in the States
where an embezzlement bankruptcy by their distributors meant the books never went to bookstores, media or many of his shows. Never saw America, really. The octopus had flamed out.
:-(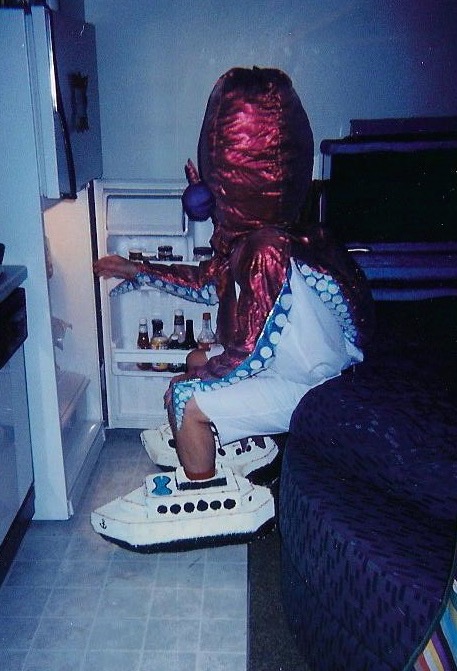 He ended up in Denver, servicing aquariums and feeling very sorry for himself.
This was before Colorado legalized weed even. Such terrible luck the octopus was having! On the plus side he was clearly dressing better.
Then something wonderful happened!
A slinky, tattooed, Englishwoman dropped a signed copy of TPOM off a canoe in Thailand and had to replace it for a mutual friend. She contacted the octopus via his website and, after an 18-month e-mail correspondence, no photos, no voice, long story short, they were accidentally married by a Sakalava crocodile shaman in Morondava, Madagascar in 2004 and legally so in California by two guys the octopus met way back at McKenna's fateful conference: Moorlock, who accompanied the octopus to Cairo as characterized/slandered in TPOM and the late, great Greg Junell who was just... an amazing human being.
Then something terrible happened.
On the eve of a summer run of one-man-shows in San Francisco, the octopus had a psychotic break. He had been awake for three days trying to get from the antipodean points of Tulear, Madagascar to Oakland, CA while taking mefloquin to protect against malaria. Naked, hearing voices and covered in his own blood, he had his first-ever fistfight — in the street, against the Oakland PD — and was briefly institutionalized. He never even saw the theater and has been taking psychiatric medication ever since. (He is also very, very sorry for any harm/inconvenience he may have caused).
He had a ton of fun making it and truly hopes you do enjoy it!
Now the octopus is in a good place.
Married to the woman he loves, with a wonderful dog, in his favorite city, in a beautiful home, with colorful friends from across the earth, with time to hone his craft and walk his path. Every day he meditates on gratitude. Well, almost every day. Some days he just does ale.
Most importantly, his dress sense is now on point!
Especially his sock game.
Today the octopus and his bride live in a one-lair, reef aquarium in East London.
Where, as a dual US/UK citizen, he has a special relationship with himself. That came out wrong.
But his book, which showed such promise, never got to see the internet, or his native USA
That's right mfers! The 20th anniversary edition of the Techno Pagan Octopus messiah is now available digitally across the globe and in paperback in These Seven (Sadly not Eight) countries!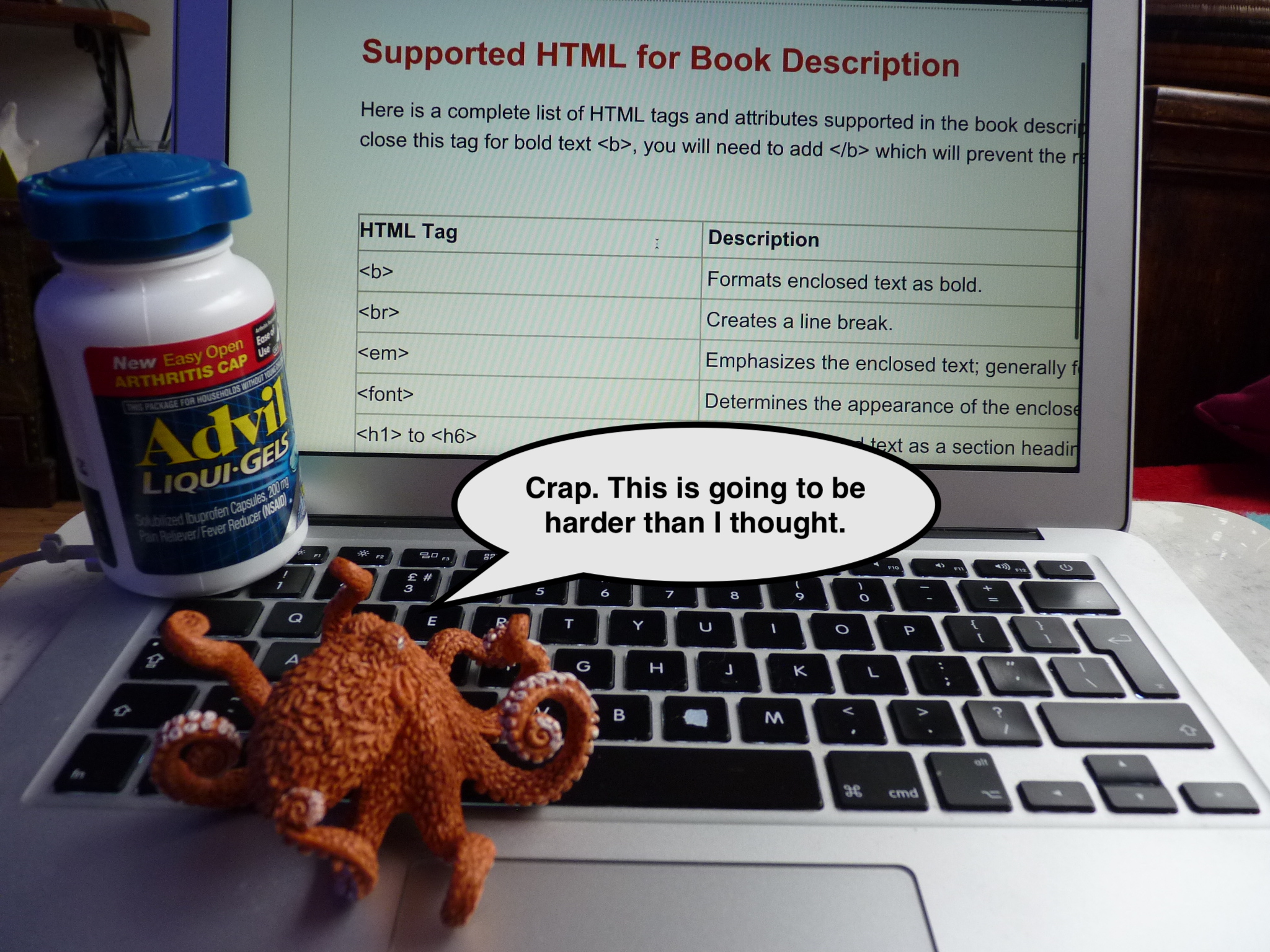 He thought self-publishing a book would be, as the English say, a piece of piss but
it wasn't. Thankfully, he had help. He is very grateful to helpers. You know who you are. Most of you are in the acknowledgements section.
And, if all goes well, inshallah,
he will land a lovely deal for his next book, Californian. To that end, he is currently seeking new representation and/or publication. If you know someone capable and not a schmuck who might be interested, please do click the contact button above.
And that is the octopus' ridiculous journey. I sincerely hope you have enjoyed It!
For more Cephalopodic nonsense, Please Follow @octopusmessiah on Instagram. have a magnificent day.