Hello Everybody (Especially Zoe and Nia)!
My name is Olive and your mom said you'd like to get to know me better -- is that true? It is? Fantastic! I always want more friends, especially people who are nice, polite and little like me.
Welcome to my world!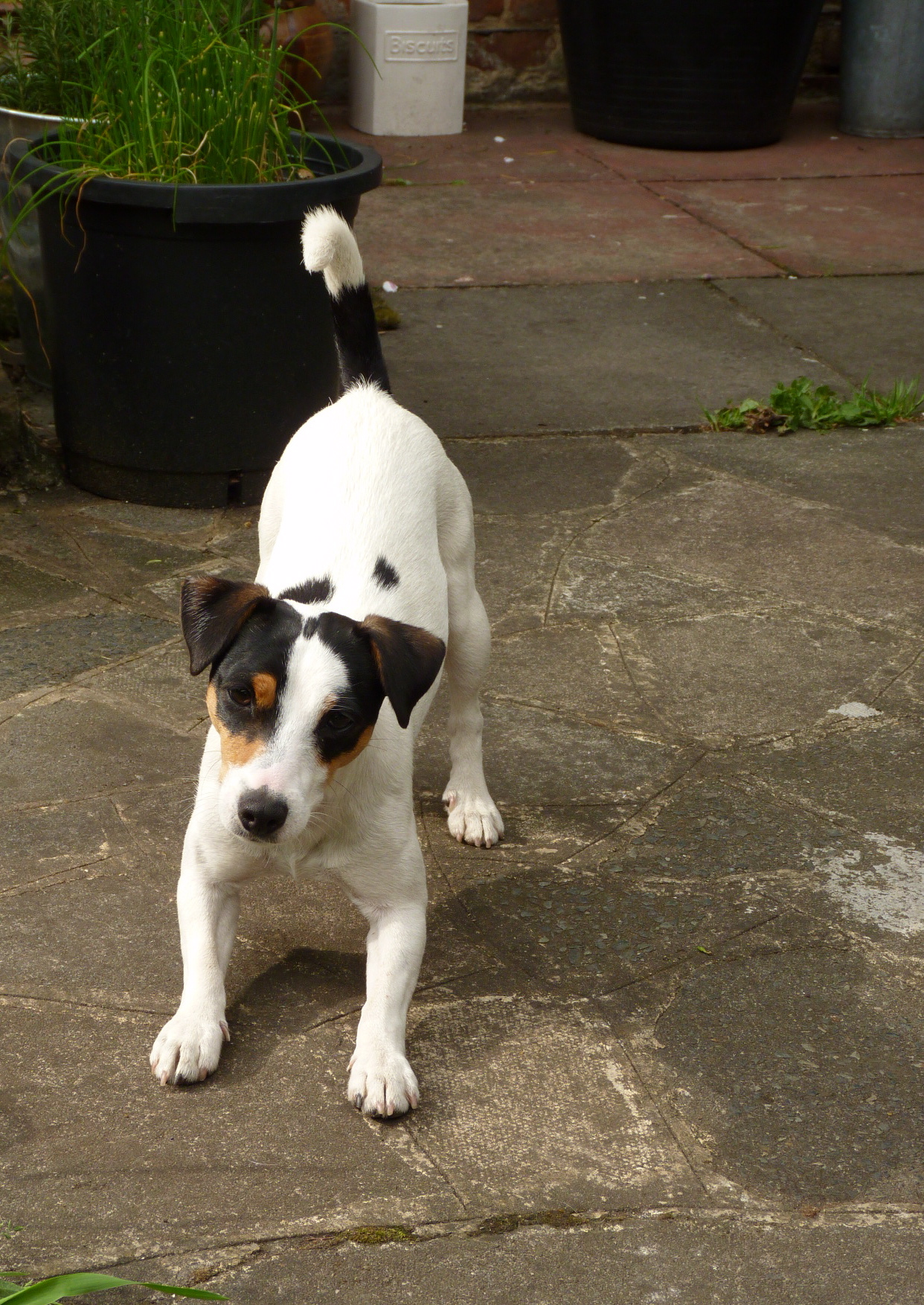 My name is Olive. I am four years old. How old are you? When I stand like this, with my elbows near the ground and my tail in the air it's called a "play bow". A play bow means I'd like to play. Do you want to play with me?
I am a Jack Russell Terrier. Or at least I think I am. I don't have a birth certificate and no one knows my parents. Humans call me a "rescue dog" because I was rescued from a place where I was very unhappy. But don't worry, things have turned out great for me so far!
This dog is not me. You can tell because I am ten times cuter. This dog is a called a miniature Parson's Jack Russell Terrier. I think this is my breed. What do you think?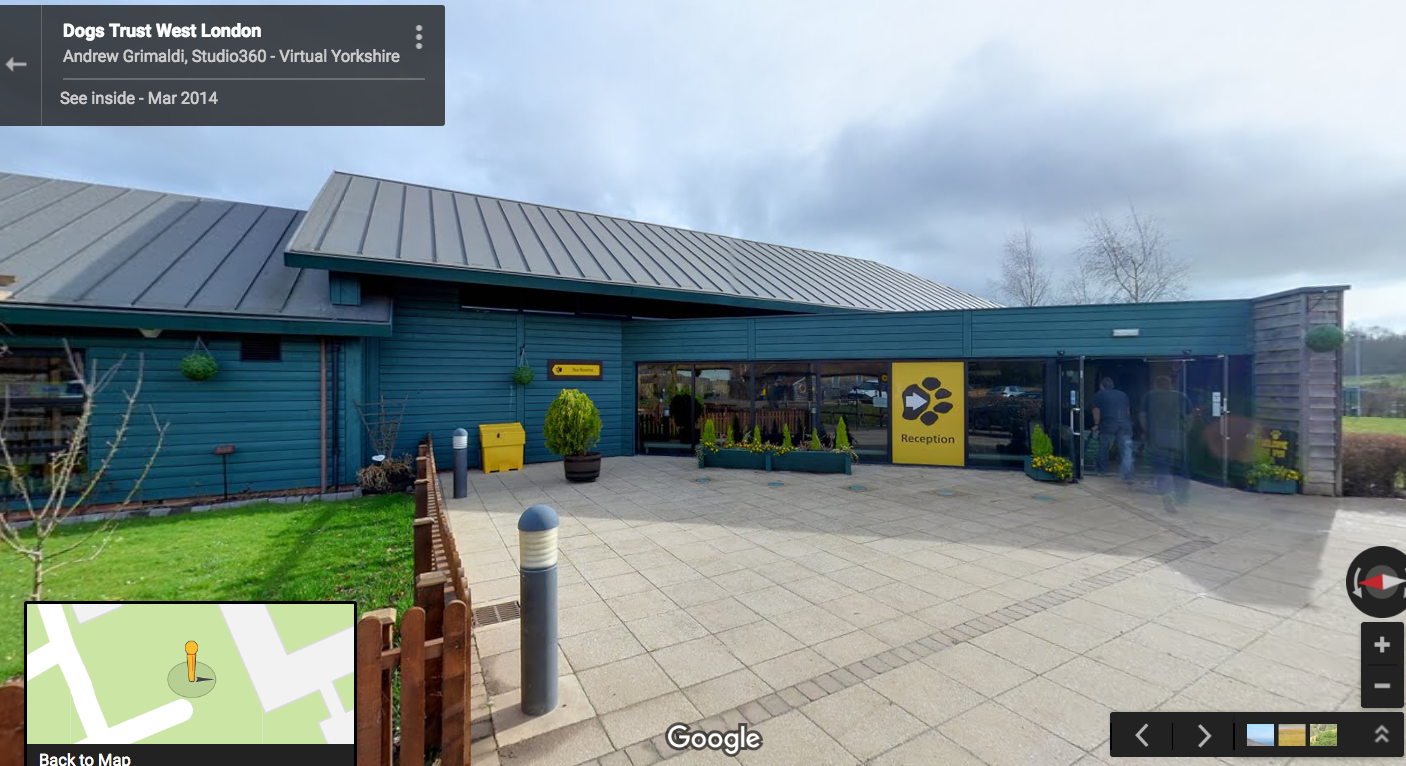 When I was 4 months old, the humans taking care of me got very sick and couldn't play with me. They gave me to a dog shelter called the Dog's Trust. I lived there for two months. The people there were very nice but there were lots of big and noisy dogs running around. It was a little scary but I was very brave!
One day, three people came to the Dog's Trust: Olive Daddy, Olive Mommy and their good friend, Olive Bradley. Here I am with Olive Bradley. He taught me that bald is Beautiful. When Olive Daddy and Olive Mommy go on vacation, I stay with Olive Bradley. He feeds me fresh cooked chicken but don't tell anybody-- it's supposed to be a secret.
These are the people that belong to me. On the left is Olive Mommy. Her name is Cat with a C. I don't like kitty cats but I love Cat with a C! Next to her is Olive Daddy. Cat with a C calls him the Walrus, which has something to do with his face fur. To me he's Olive Daddy. Wait-- am I supposed to chase those leaves?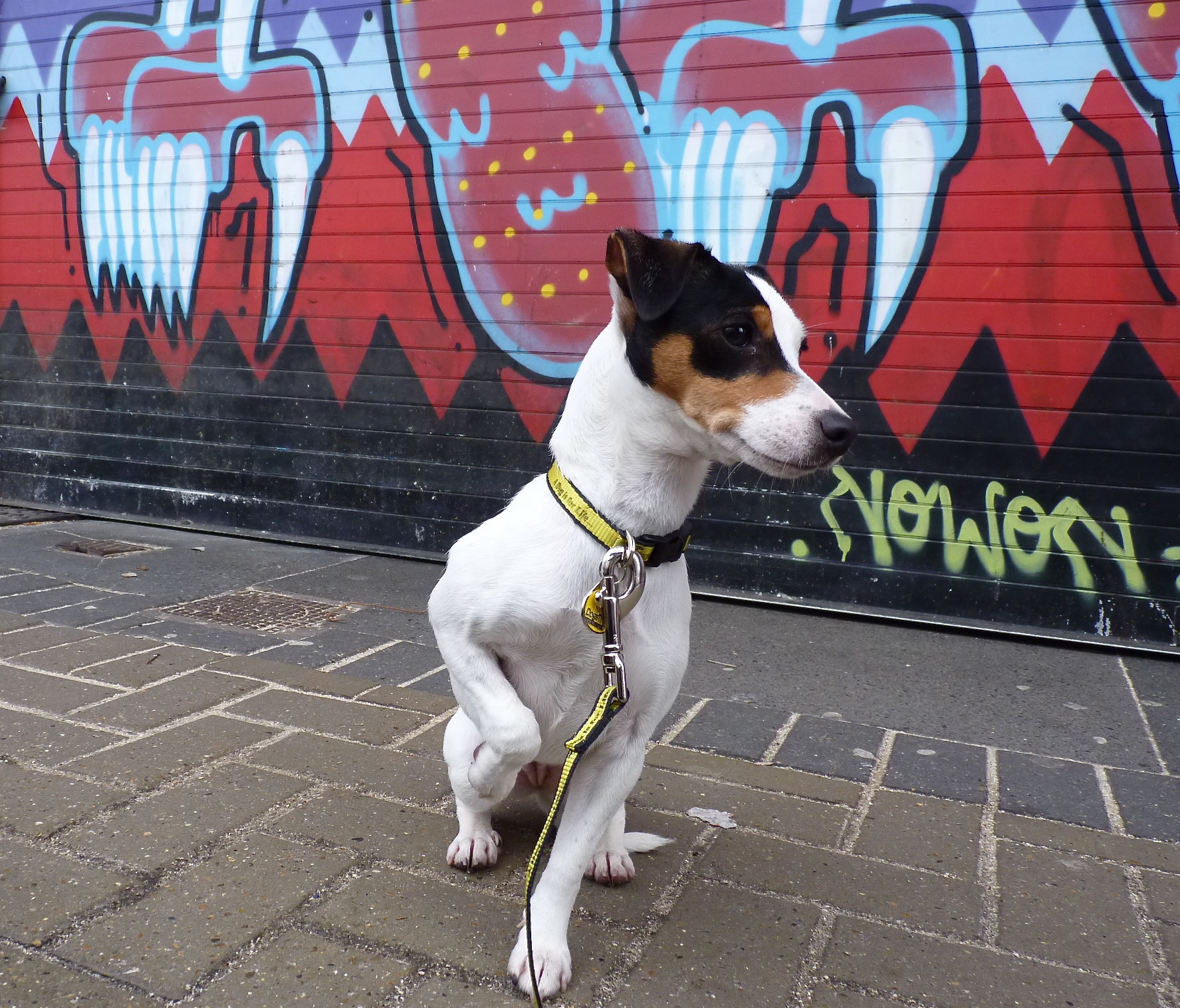 I live in the East End of London, England. It is a very cool place to live, with lots of art on the walls. When I first moved there I was scared because it was so different than the Dog's Trust. This is a picture from the day I moved. Can you see my yellow Dog's Trust leash?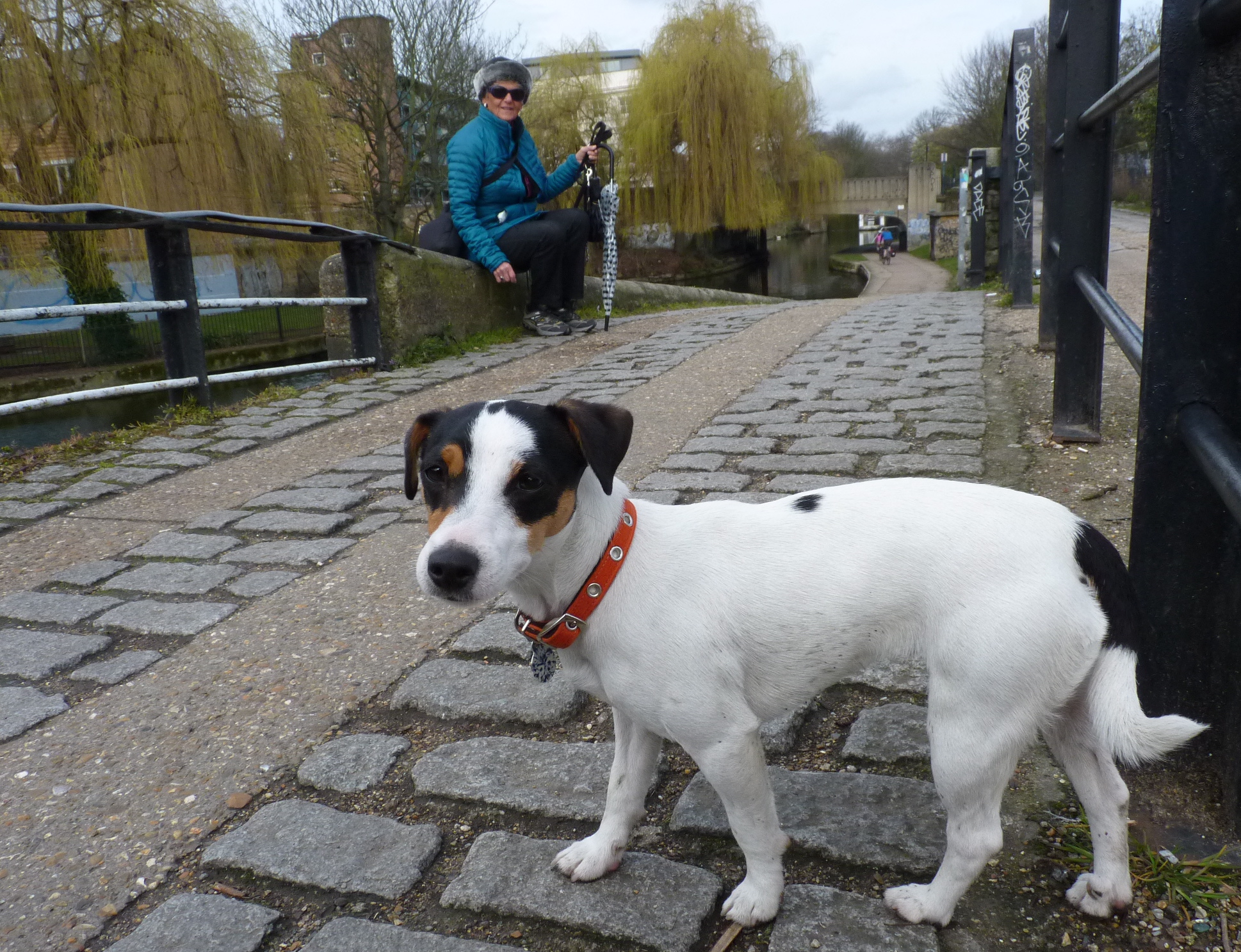 I live near lots of canals. People bicycle very fast down the canals so I had to learn to be careful. Can you tell I was a little scared? I was only six months old!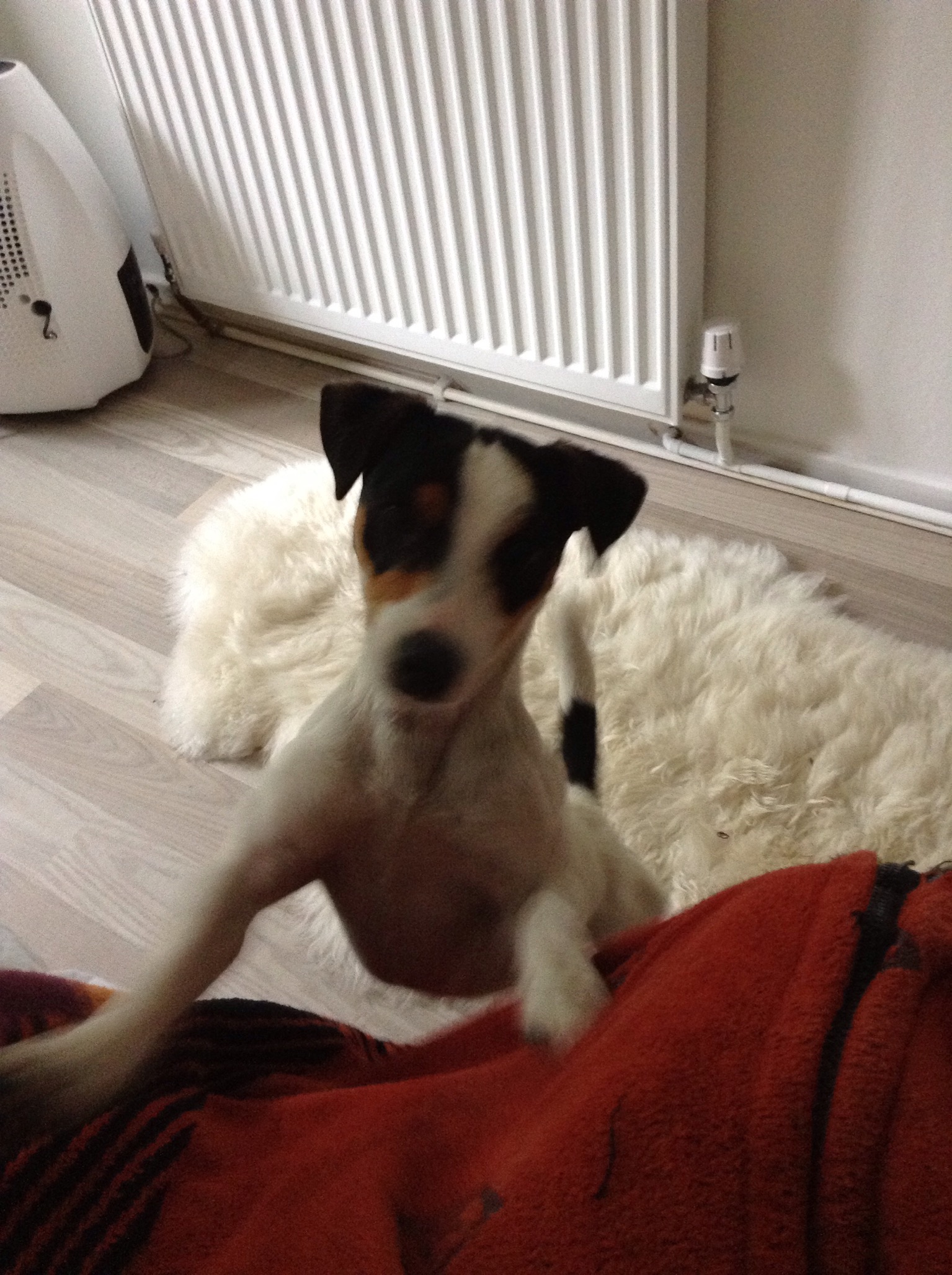 My first memories of living with Olive Mommy and Olive Daddy are a little fuzzy. Can you tell? Can you remember your first memories living with your mommy?
Here is a picture of the canals I walk down every day. They even have boats that people live on!
I love my new home! My favorite place to sleep is on a sheepskin bean bag. Sheepskin is warm and fuzzy, just like me!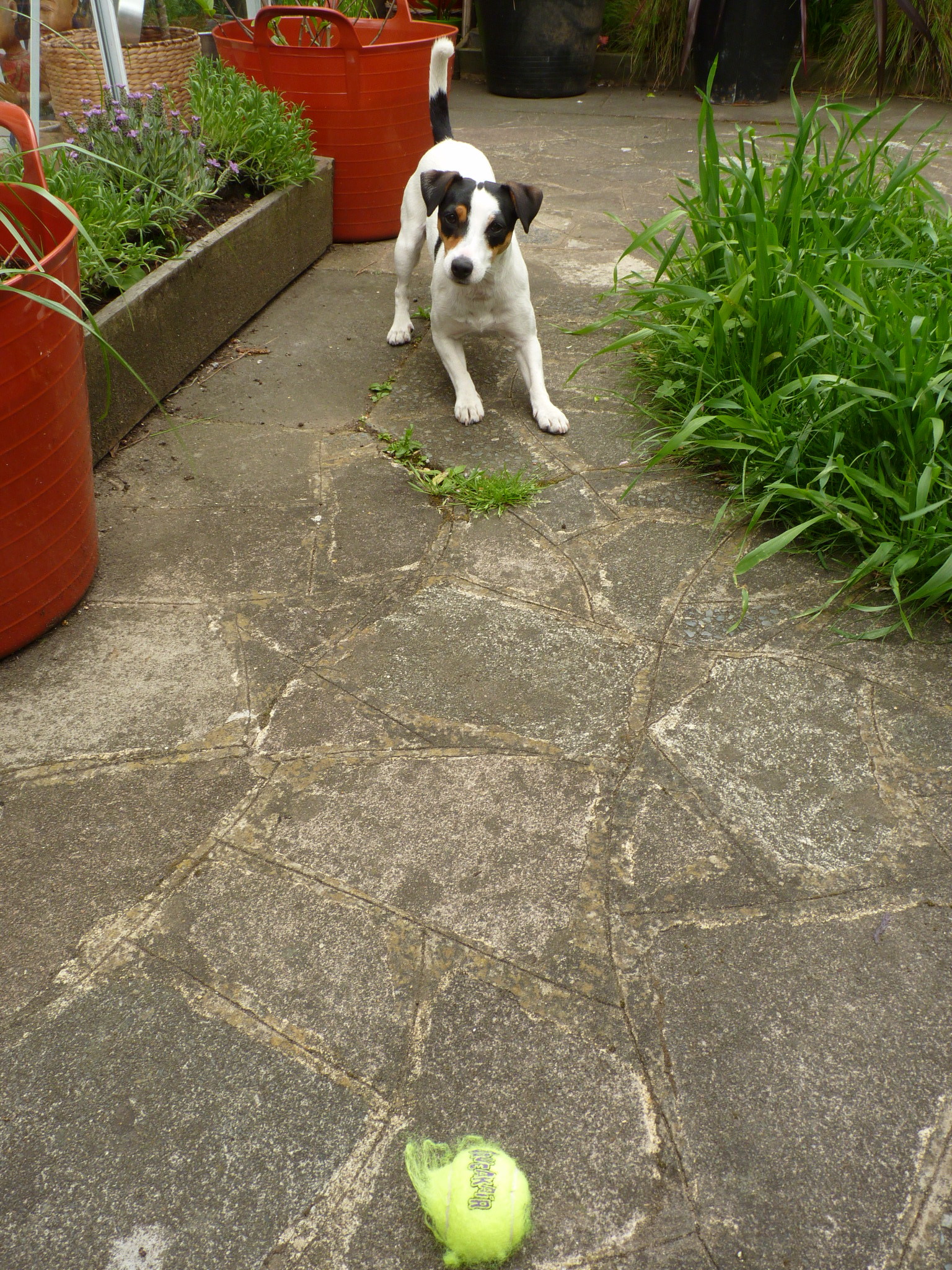 My favorite thing is playing fetch. I will fetch a ball anytime, day or night. I will also fetch a rock, a stick, a slipper, a sock or a frisbee. When I am in play bow in front of a ball like this I'm asking you to please throw the ball. Will you throw the ball for me?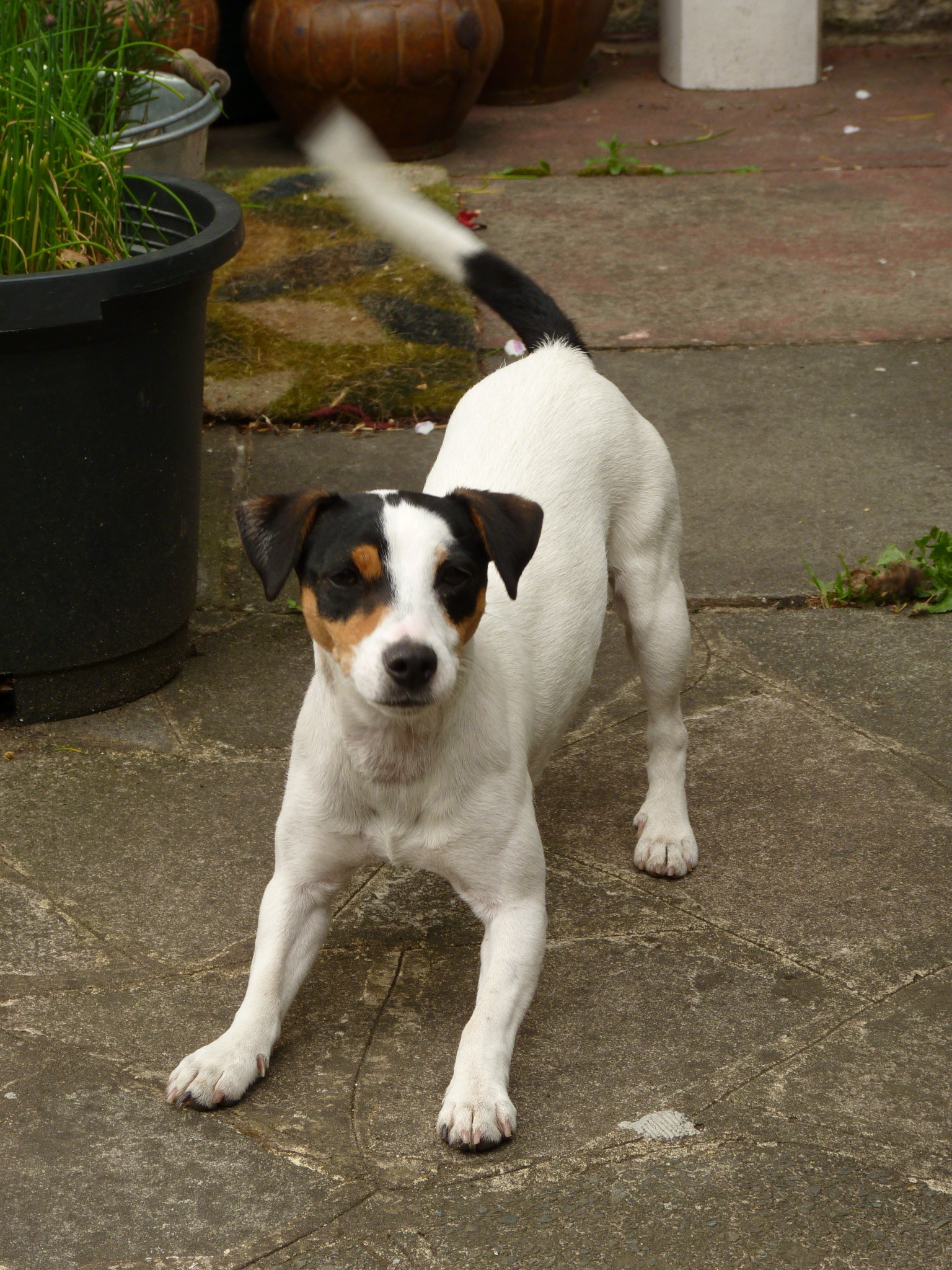 I weigh 12 pounds. People are very big compared to me and can be scary, especially when they try to grab me. When we play fetch can you please stand very still? If you stay still, I will bring the ball directly to your feet! If I don't bring it close enough just say "Rubbish!" If you do I will move it closer. Rubbish is a word I know!
I don't like to brag but... I am very good at catching and catching balls.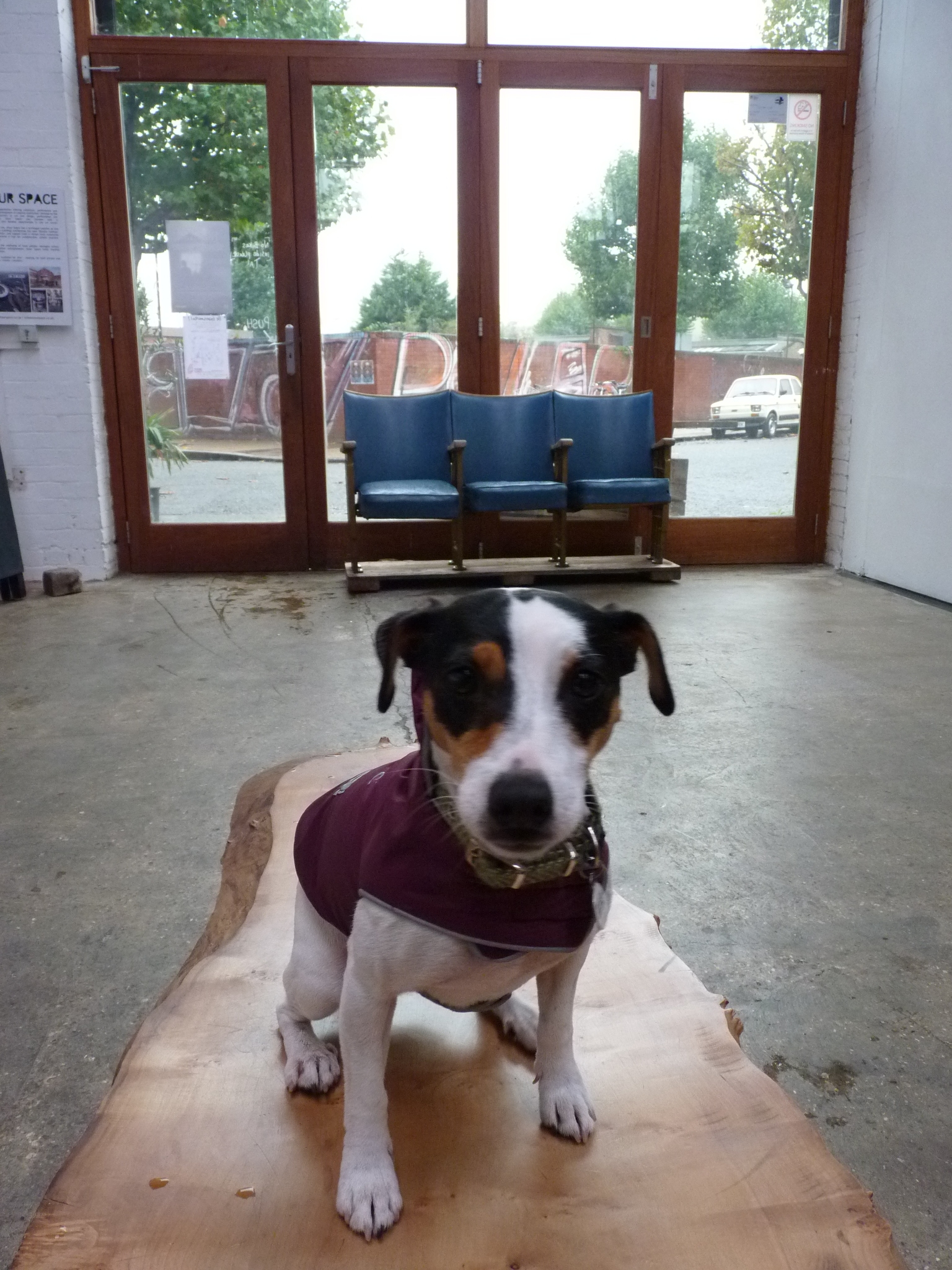 England can be very cold and rainy. When it's cold, Olive Mommy makes me wear a coat. I hate wearing clothes. Can you tell?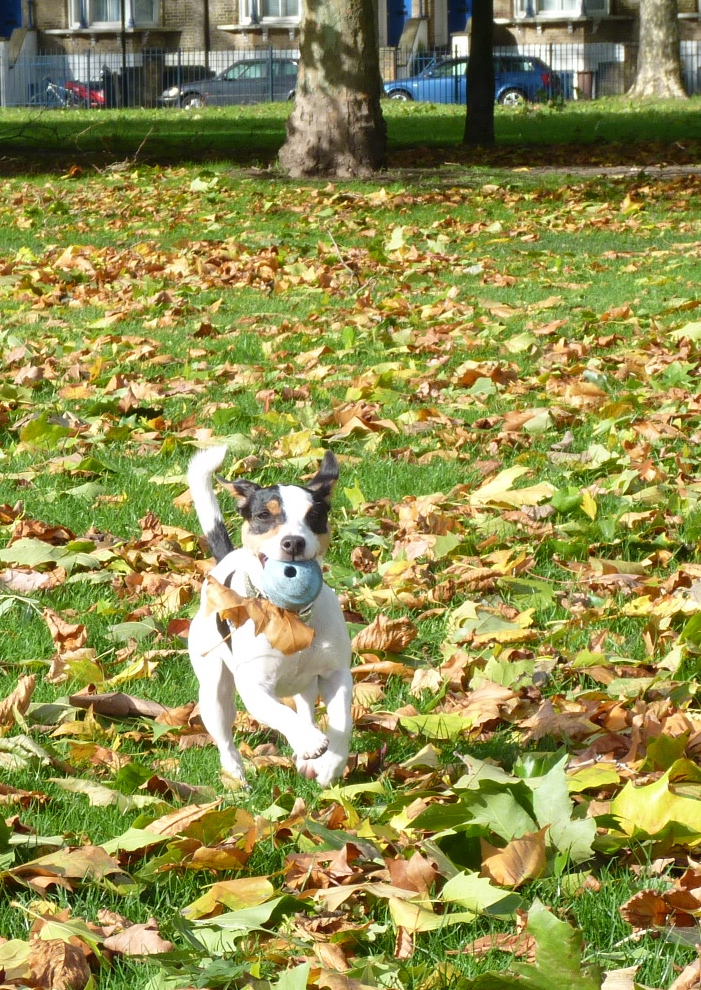 Some people say dogs only see in black and white-- not true! We actually see in blue and yellow. If there's a lot of leaves on the ground, I can't see a red ball unless it's moving-- crazy huh? That's why my toys are mostly blue and yellow, especially in the fall. Blue and yellow are my favorite colors-- what are yours?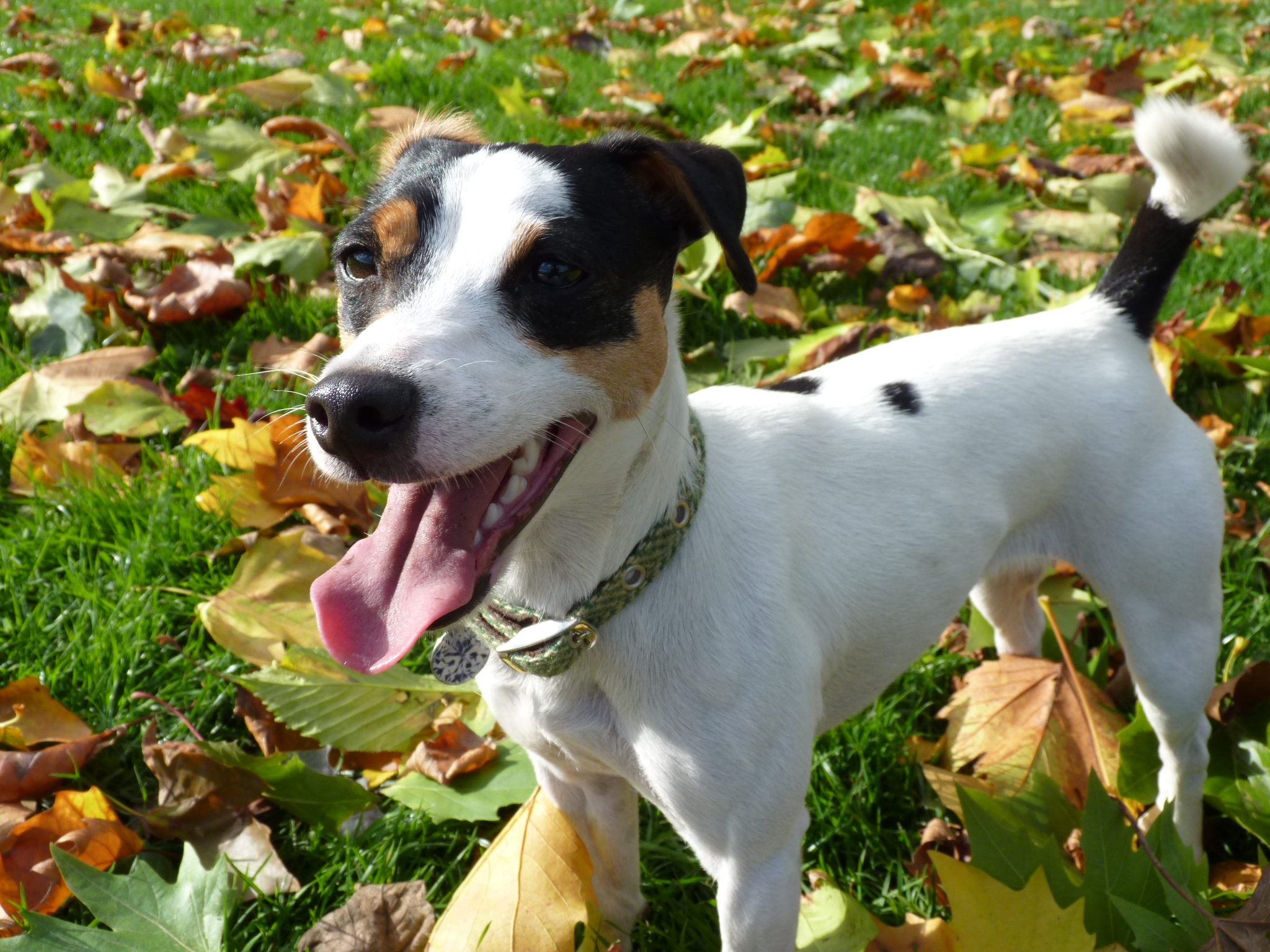 It is very hard being this cute. Somehow I manage. You girls know what I'm talking about!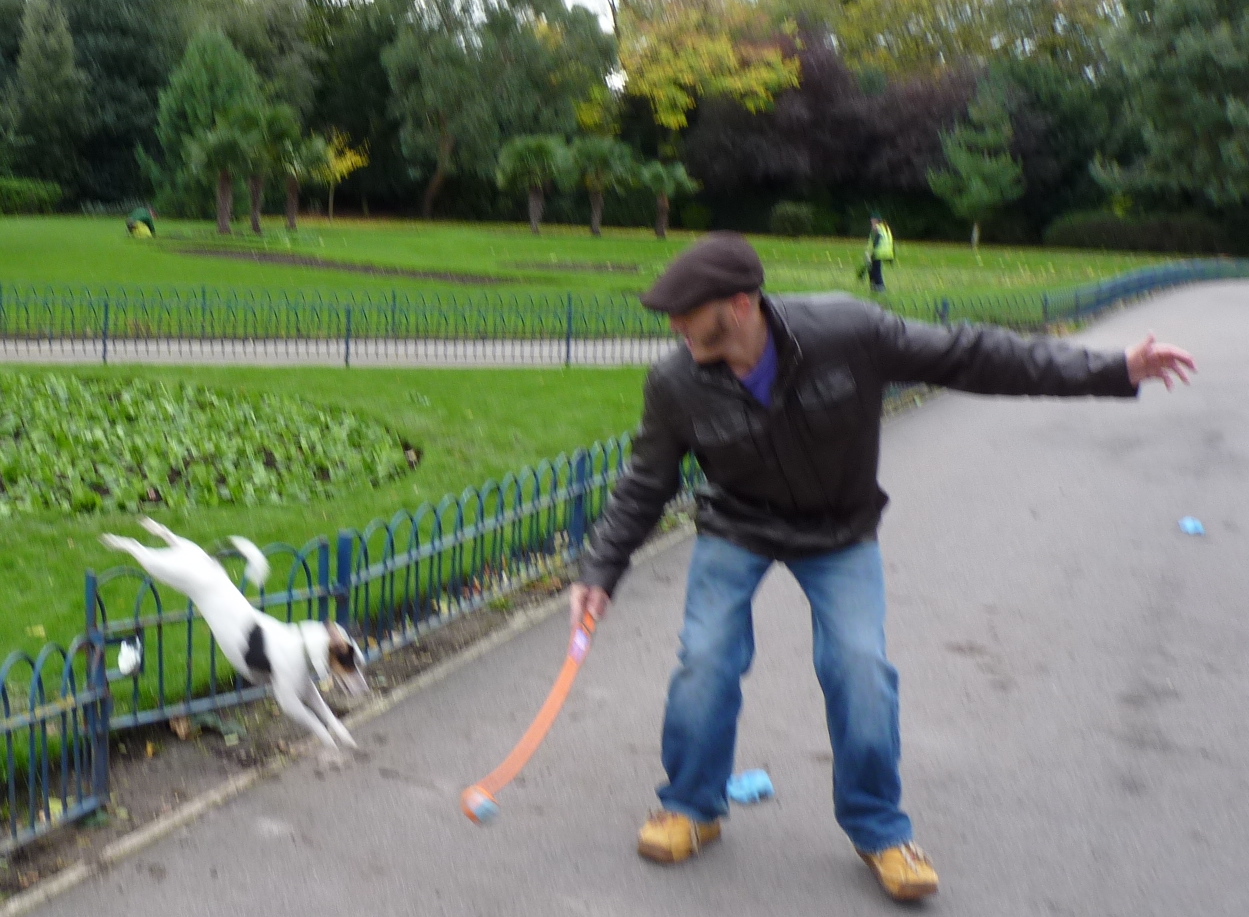 I am very good at jumping over fences, as long as they are short! The command is "Up, up, up!" This is me catching major air.
Olive Mommy and Olive Daddy had two rules when I moved in with them. No dogs on the couch and no dogs on the bed. Those rules lasted less than a month. Being cute, polite and good works wonders. You girls know what I'm talking about!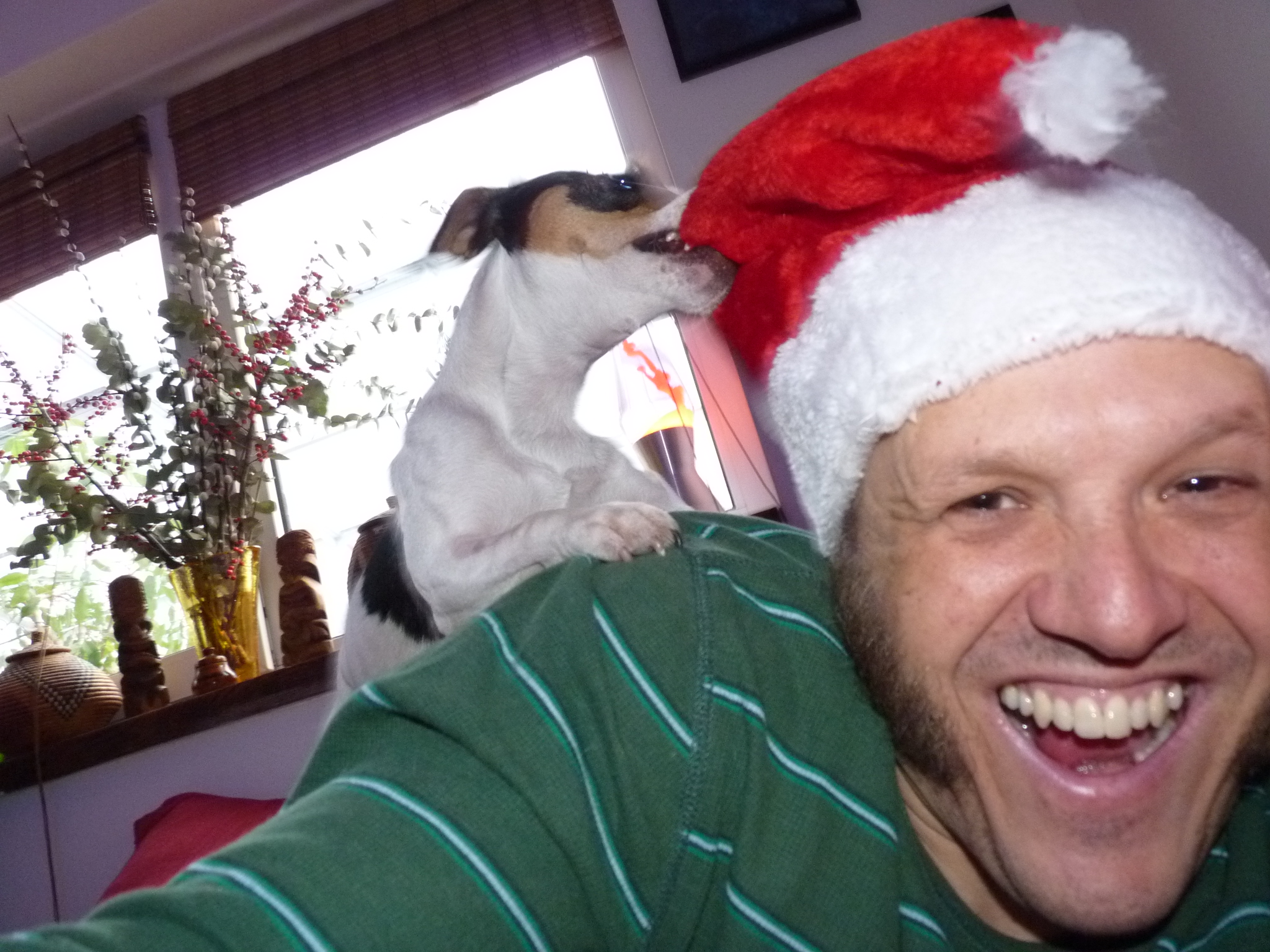 I hate Santa Hats! Do you know why? (Don't worry, there is no right or wrong answer)
Once, I broke my dewclaw, which is like a long thumbnail. The veterinarian had to pull it out which hurt a lot! Afterward I had to wear this cone on my neck to stop me from licking the wound. Do I look happy about it?
Another time, I hurt my knee and couldn't play ball of SIX WHOLE WEEKS. It was NO FUN AT ALL. Olive Daddy had to carry me around in a special dog bag. At least the bag was very stylish. It's made of a fabric is called Oxford tweed. When Olive Mommy saw the bag she said, "Oooh, darling!" Can you say, "Oooh, darling!"?
Because I looked so stylish in my Oxford tweed dog bag, Olive Daddy had to look stylish as well. Do you think we rocked it?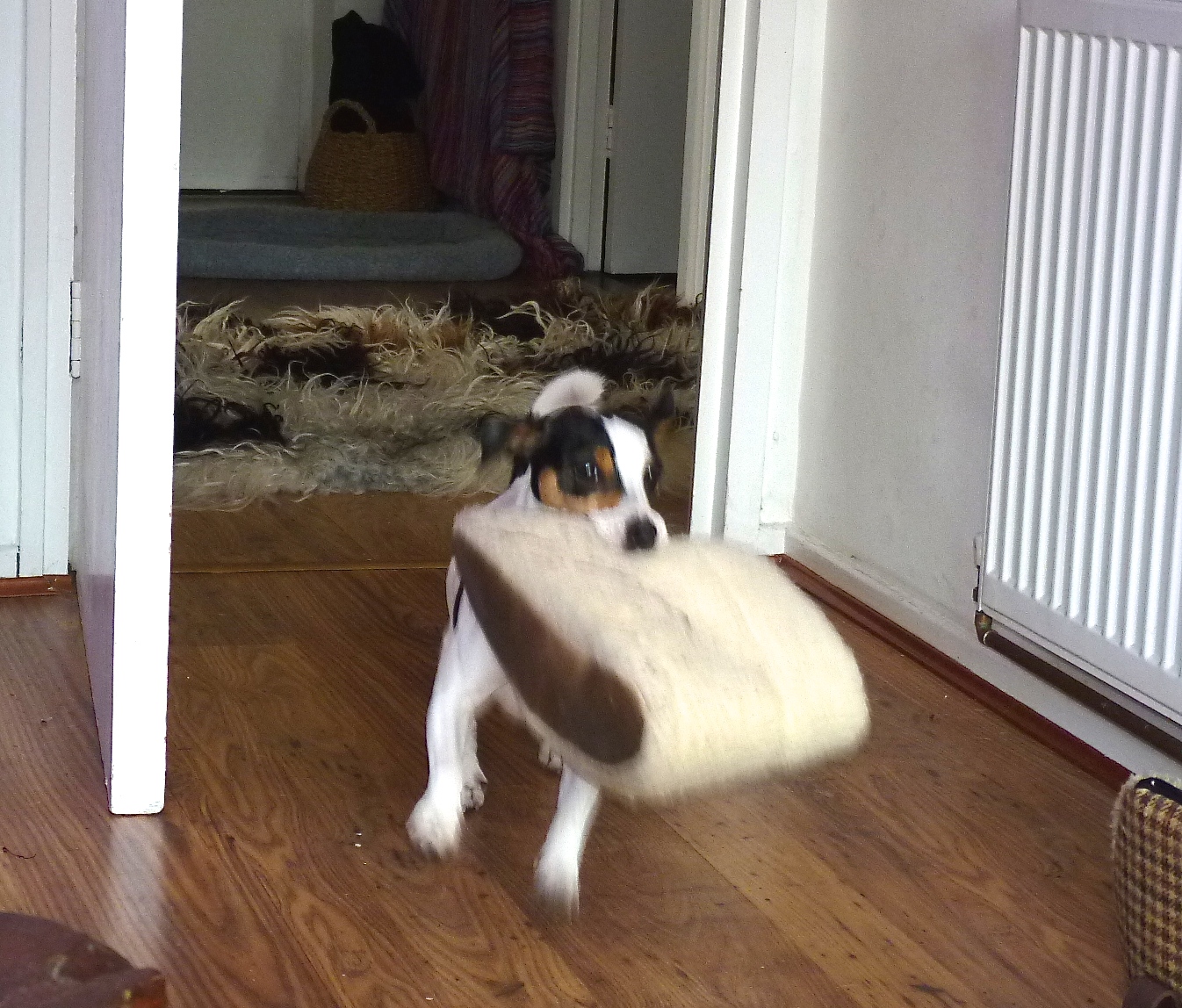 In the winter, Olive Mommy and Olive Daddy get cold feet. Poor Olive Mommy and Olive Daddy-- their feet don't have any fur! Have no fear, Olive is here! As soon as they get out of bed, or come home from work I run and fetch their slippers. If they need them at other times they simply tell me "Muffin!" and I go fetch them. Muffin is a word I know. I like to help where I can. Do you like to help where you can? How?
When I'm asleep I like to stay asleep. There's an old saying that goes, "Let sleeping dogs lie." I wish more humans listened to this saying.
I don't like wearing clothes but sometimes I have to model them. Being cute can be hard works sometimes! This is a shirt from Olive Mommy's restaurant, Joe Allen. Am I working it?
Can I please take the shirt off now? And don't forget: I get paid in treats. My favorite treat is cheese. It's in my contract.
I hate brooms. They think they're made of fur but they're not. If I see a broom I will make sure it knows that Olive is boss. Is there anything you attack on sight?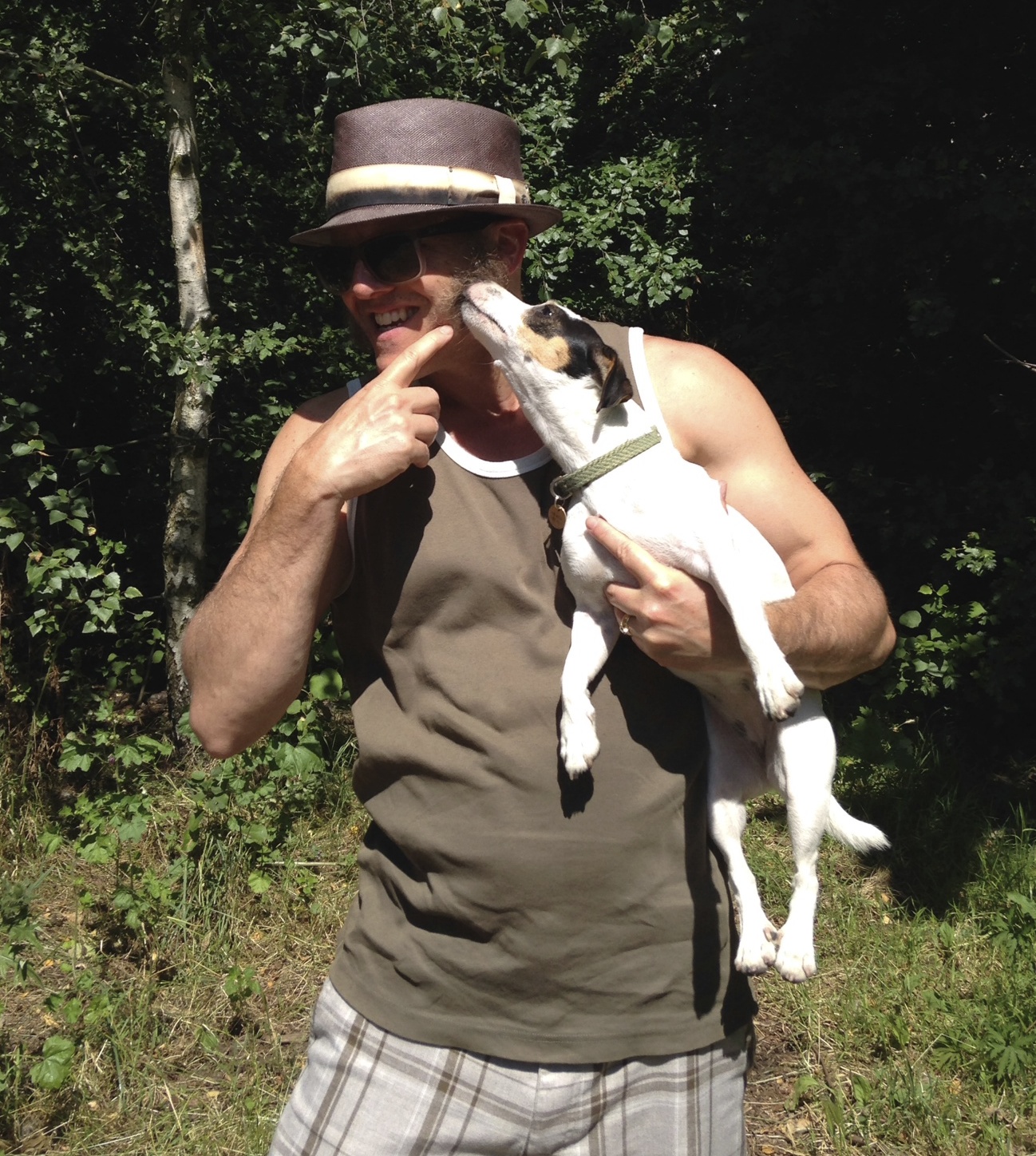 Olive Daddy loves it when I kiss his face fur, which I do if he's been good. The command is "Kiss-kiss!" Kiss-kiss is a word I know.
I'm only eighteen inches tall but I can jump four feet off the ground! Especially if it's to bite a broom. How high can you jump?
If there are no leaves around I can see the orange ball, especially when it's moving. When I get too hot from playing, I lay down in the shade. When I pant, the cool breeze on my tongue helps me cool off too. It's hard to pant with a ball in your mouth!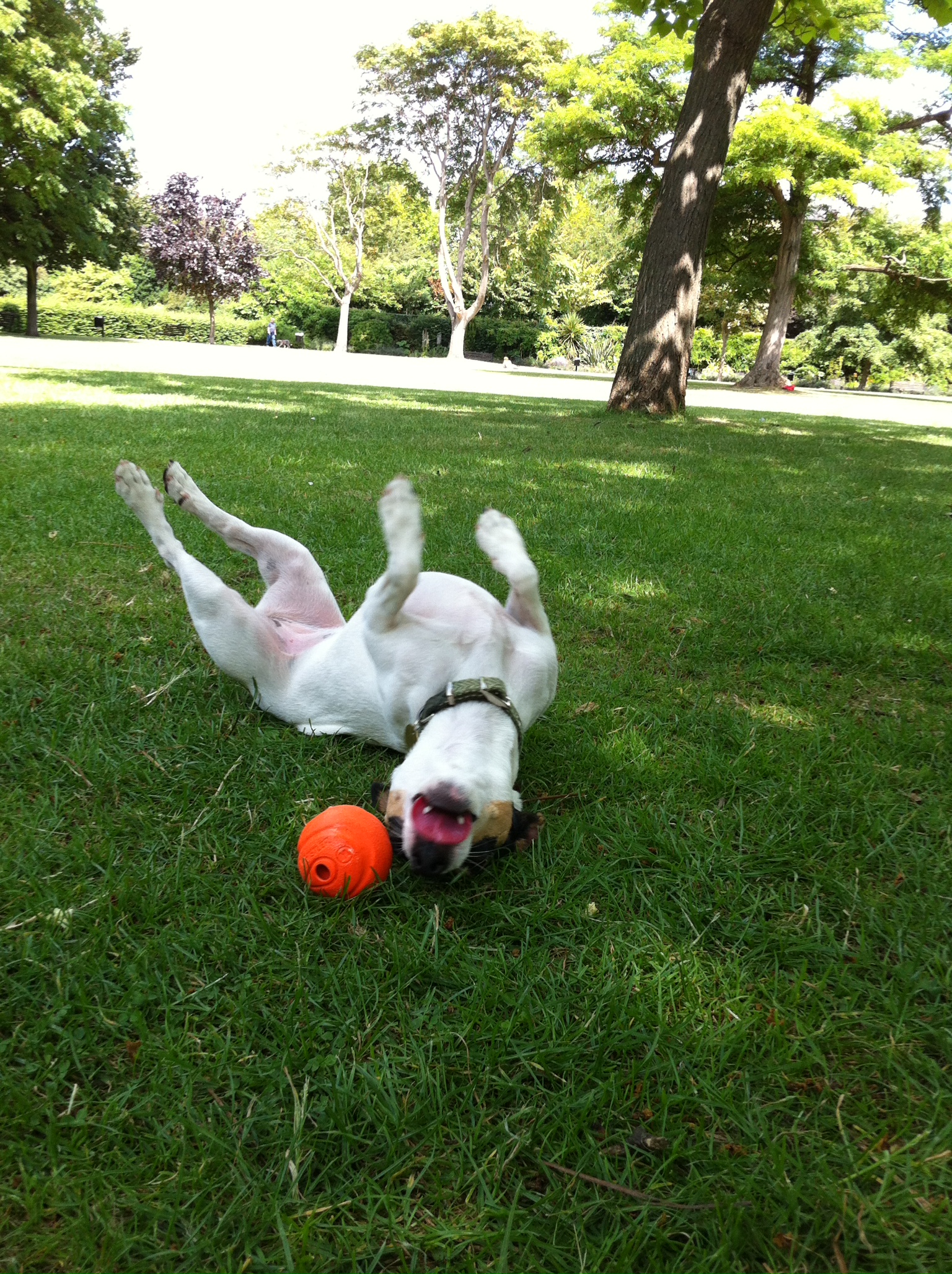 I love to roll around on cool grass!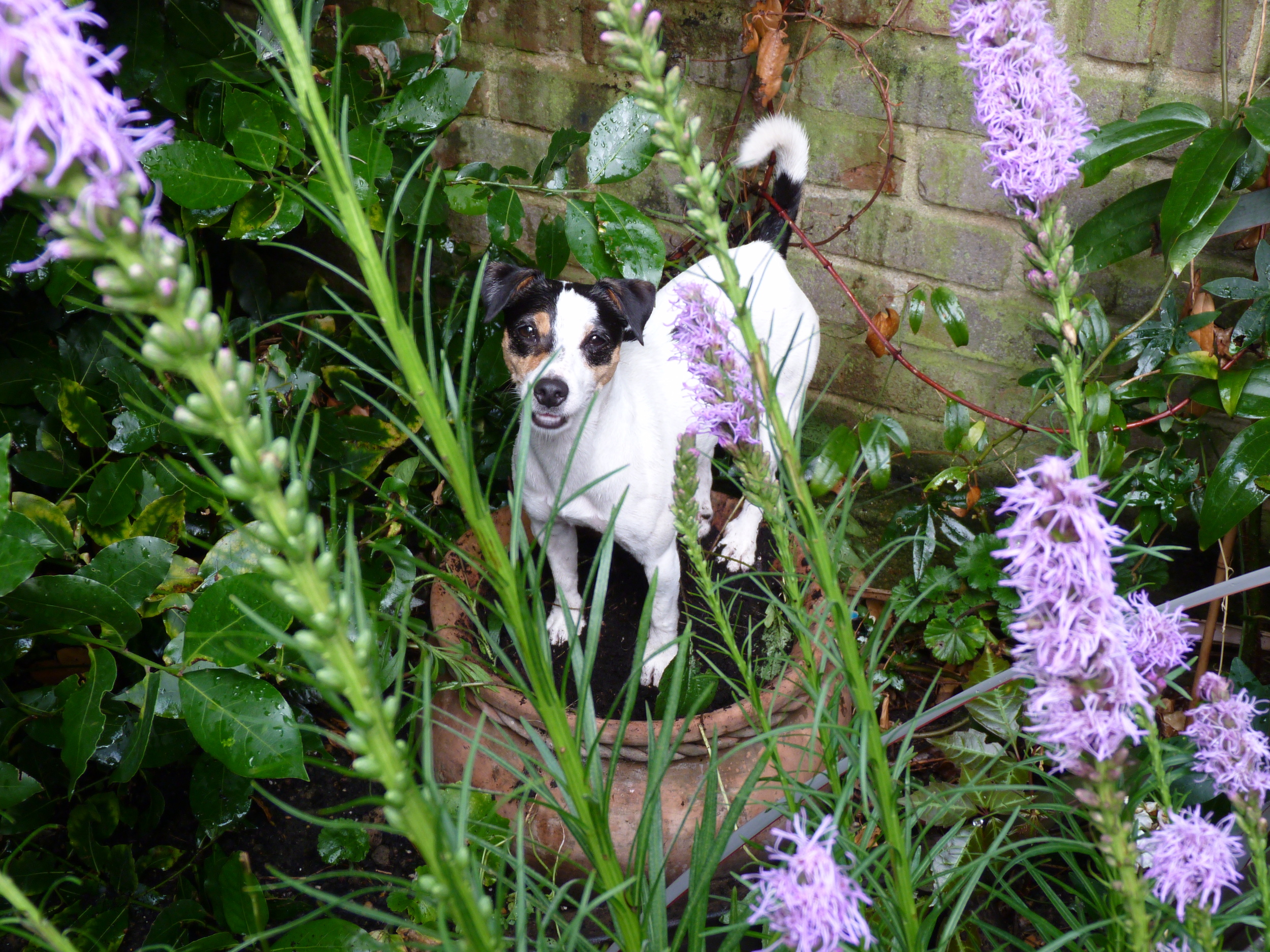 Olive Mommy likes to plant flowers in the garden. I like to help. Can you tell I'm helping?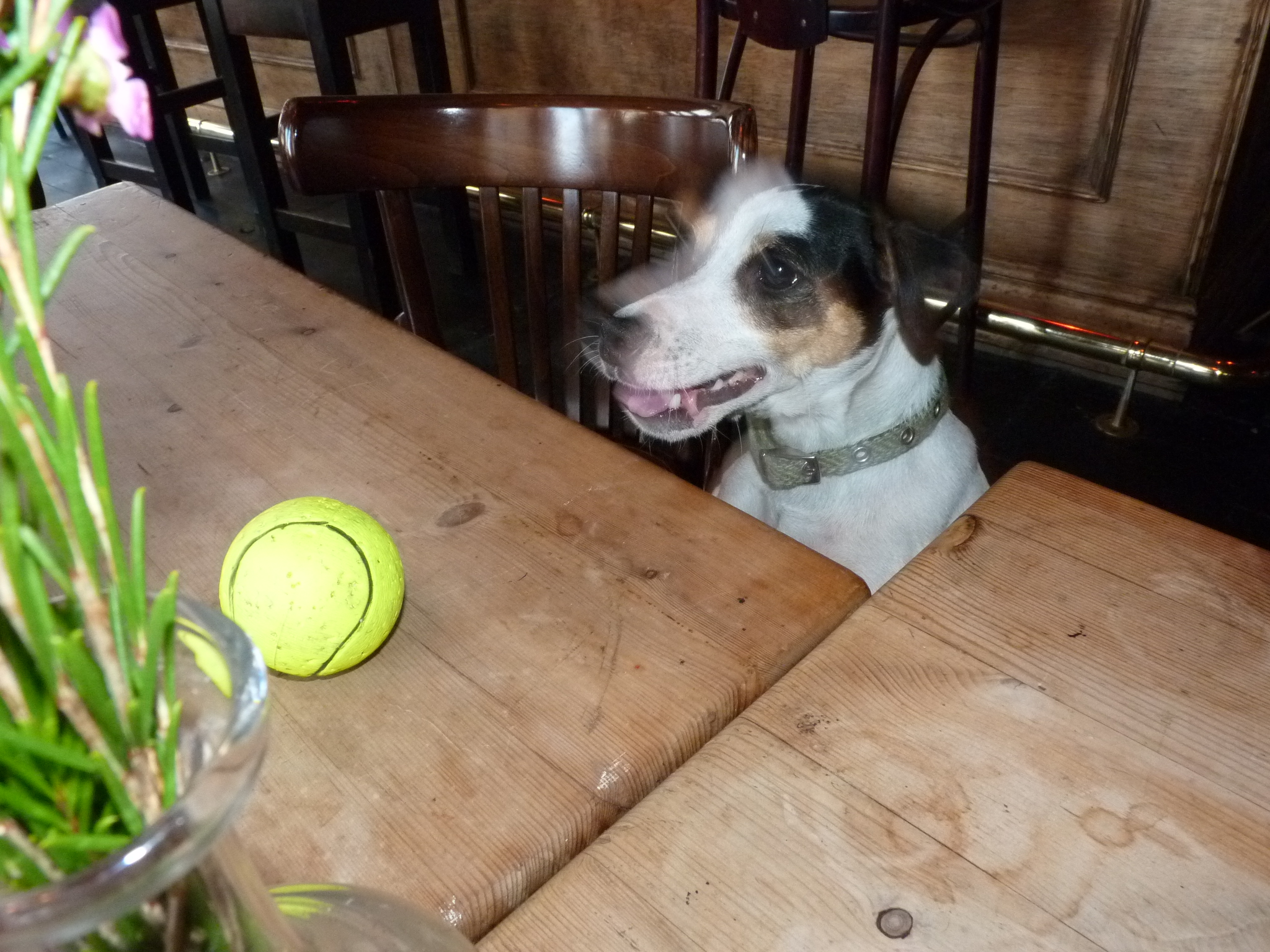 When Olive Daddy thinks it's time to stop playing he puts the ball where I can't reach-- but I know where it is.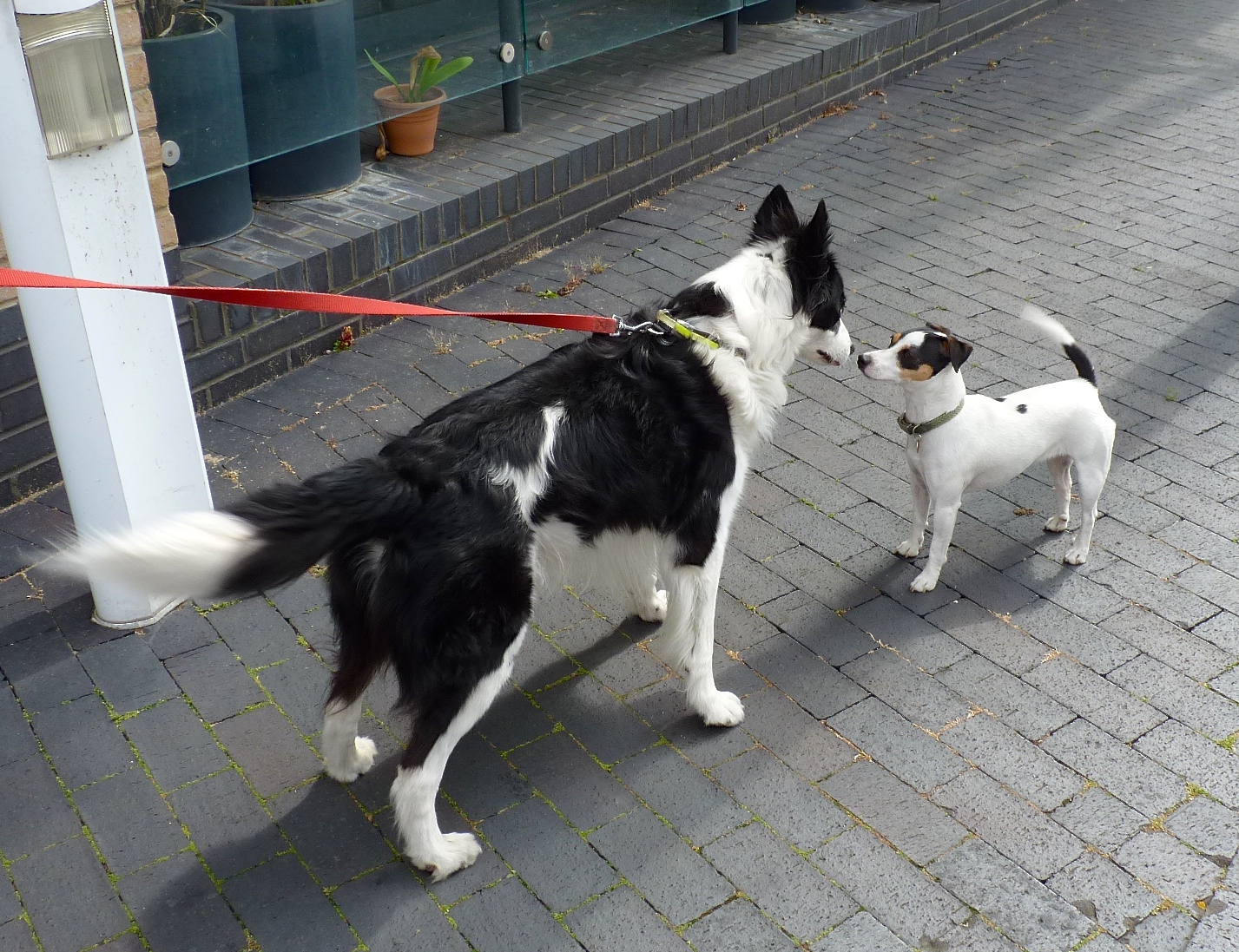 I don't like to play with dogs who bark a lot, growl or scare humans. Those dogs make humans scared of all dogs, which is silly! Dogs are like people: some are nice and friendly, others can be mean. Don't ever play with dogs unless you're sure! This dog was cool. I never got her name-- do you think she liked me?
Olive Mommy sometimes takes me on a ferry across the River Thames. I love to ride the ferry. It means I get to smell new places!
Thank you for taking me on the ferry, Olive Daddy!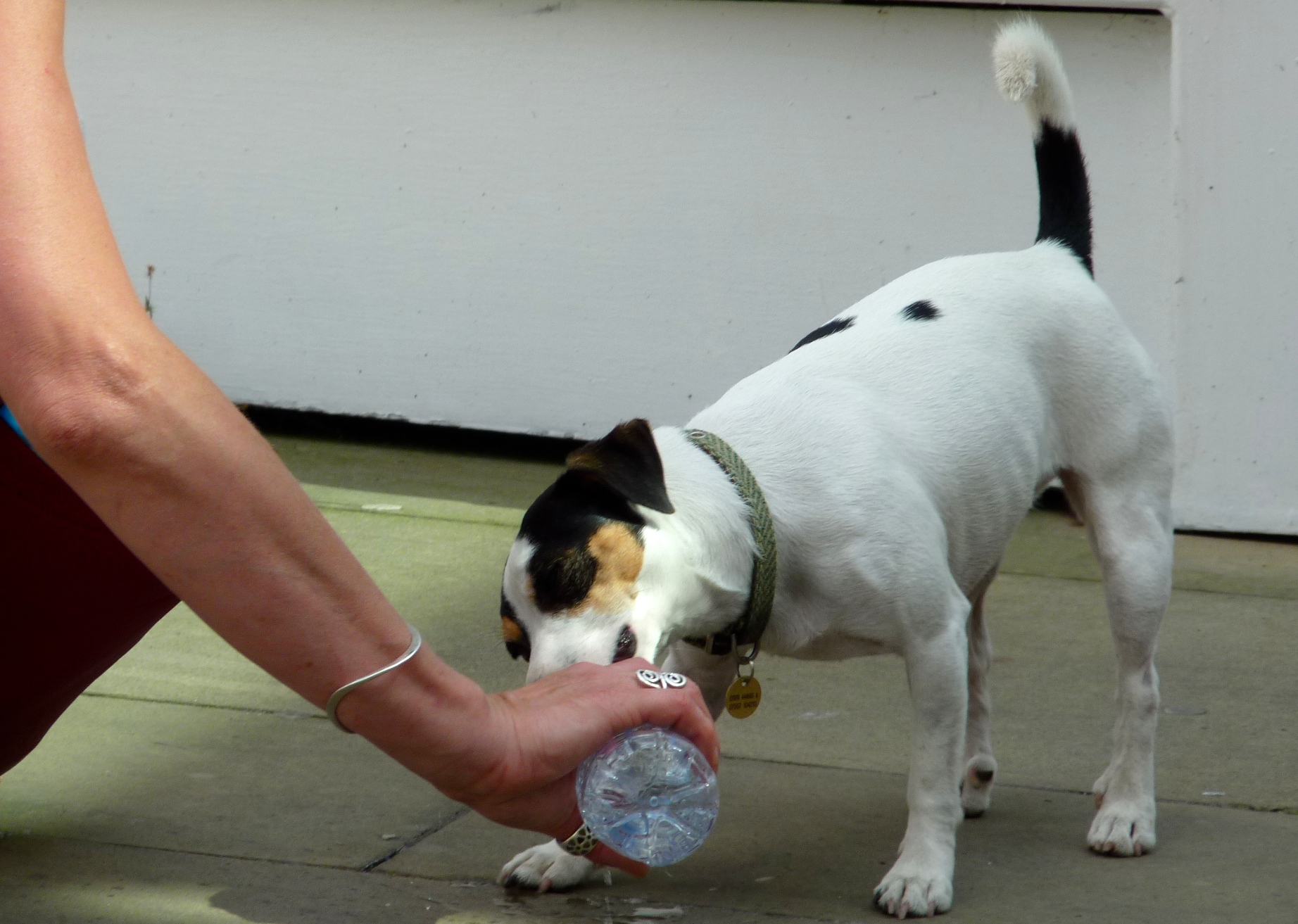 Ah, a nice cold drink from my special bottle. "Drink" is a word I know.
This is a very good walk!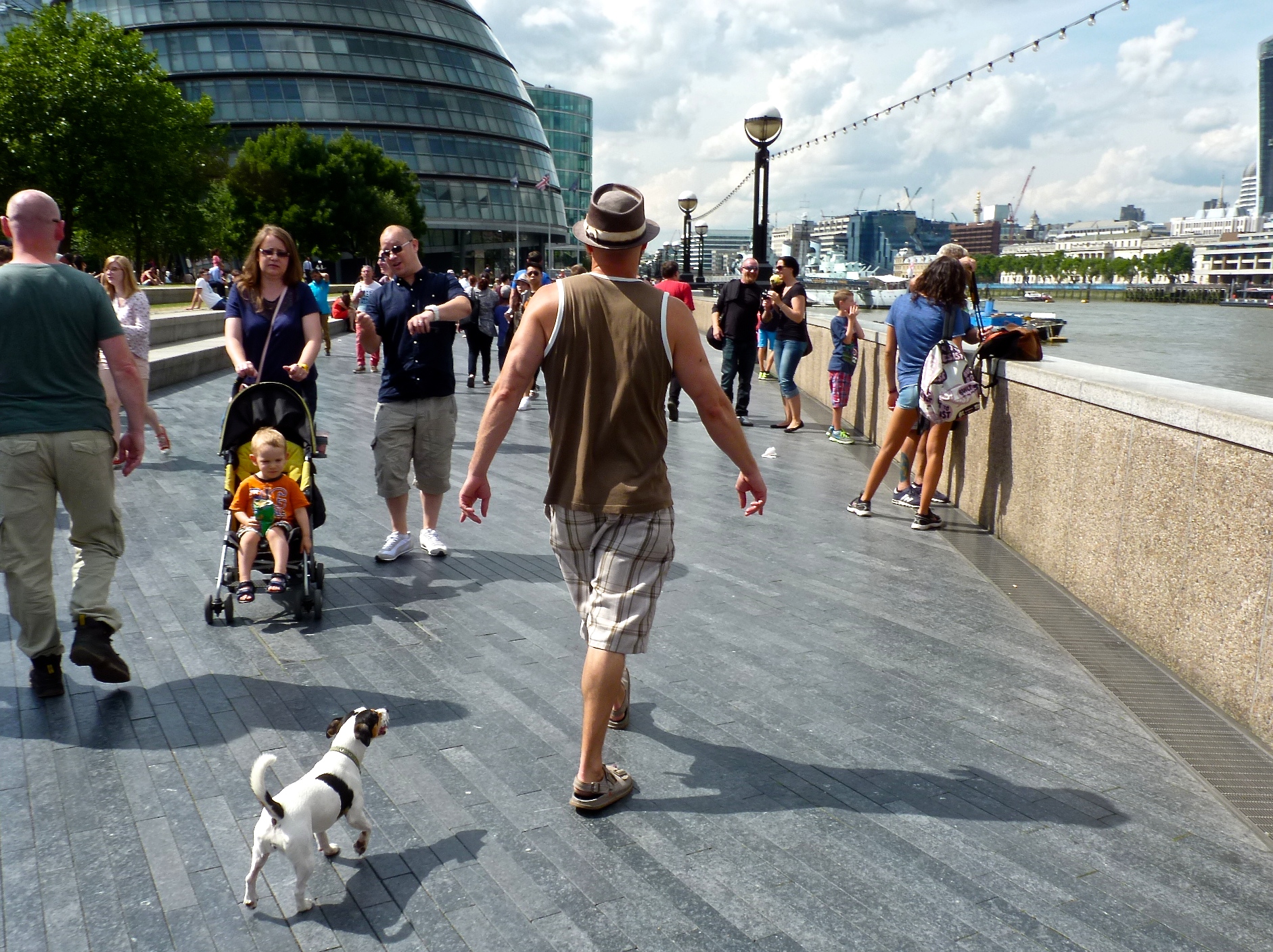 When there are no cars around, Olive Daddy lets me walk without a leash even when there's lots of people! As long as I stay close and come when I am called I get lots of time to smell things and walk around. If I'm very well behaved I also get treats. Did I tell you my favorite treat is cheese? Who's a good girl? Olive dog, that's who!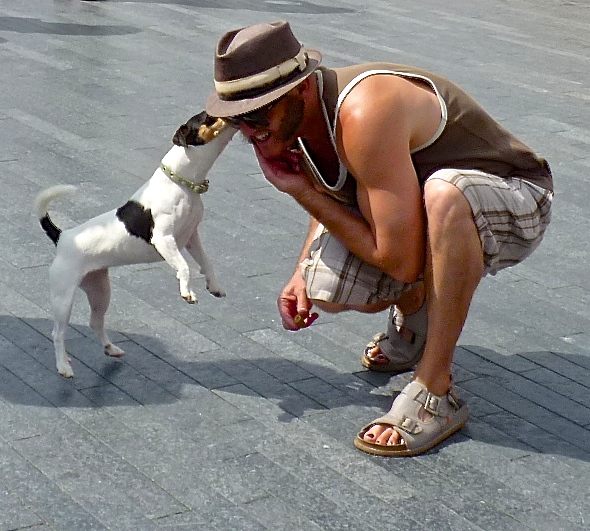 Olive Daddy has been very good and well-behaved today. Kiss-kiss for Olive Daddy!
I'm not crazy about being picked up and riding escalators but sometimes it is necessary. Life is not always fun but it is an interesting journey. Do you agree?
Olive Mommy and Olive Daddy don't have a car. Instead, they get around London on an underground train called the Tube. I'm not crazy about riding the Tube because so many people try and pet me. Imagine if everyone you met tried to stroke your hair. You'd be like: "Do I know you?" Luckily, Olive Mommy and Olive Daddy are there to protect me!
Can we go back to the park and play again now please?
Look how good I am at catching the ball! I'm good because I practice every day, remember? The more I practice, the better I get. What do you practice? What do you want to be good at?
Olive Daddy likes to take pictures of graffiti art. While he takes pictures I like to smell things. My sense of smell is much better than humans. When I walk down the street and sniff, I can tell which other dogs have been there-- and what they've been eating. Isn't that cool? It's like reading a newspaper with my nose! What do you think I'm smelling now? What can you smell right now?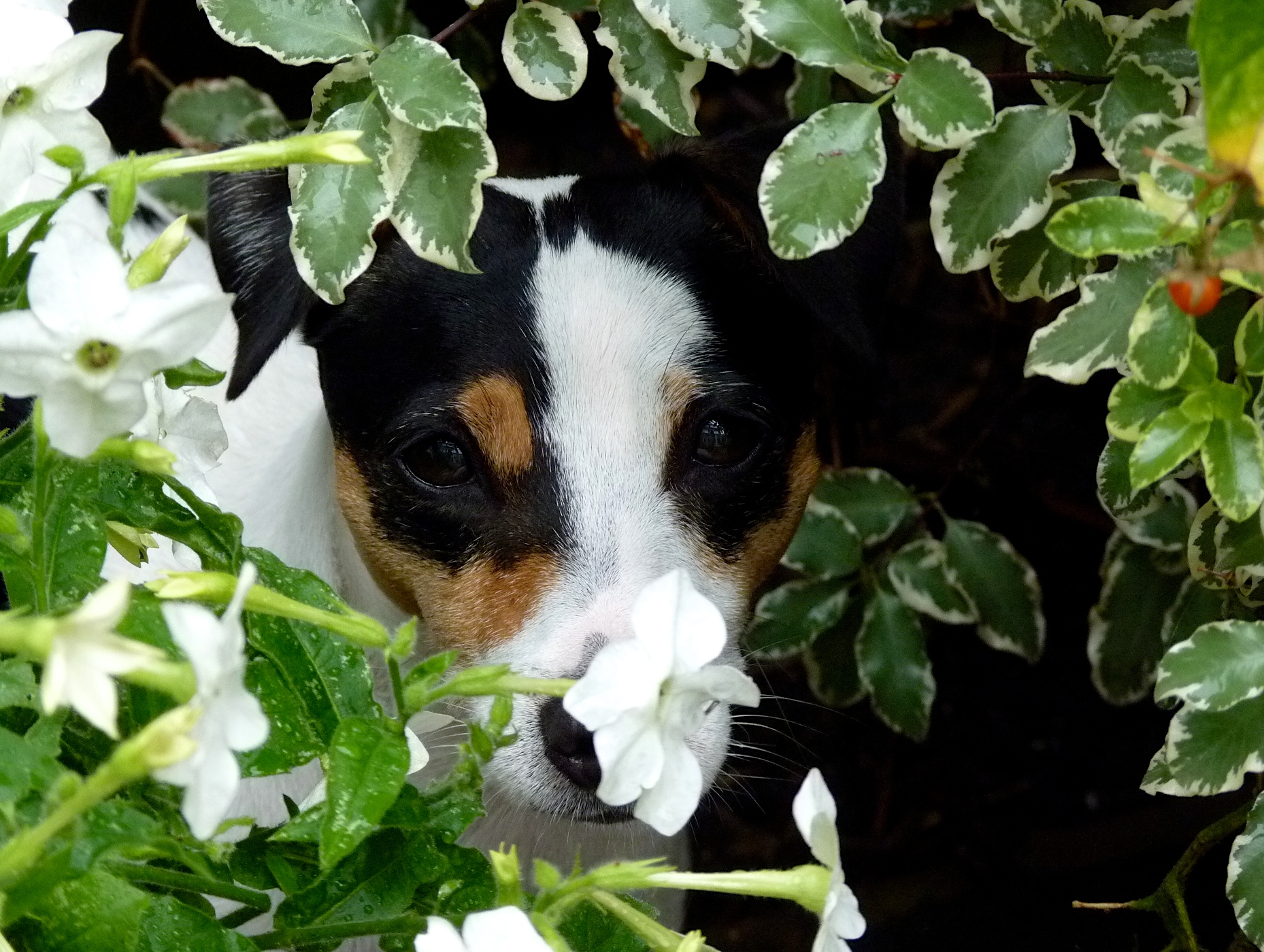 I'm hiding. Can you find me?
Do you think Olive Daddy will mind if I drink his beer?
Just kidding, beer is for grown ups! Instead, I'm going to chew on a special stick that's good for my teeth and keeps them sharp and clean. How do you take care of your teeth?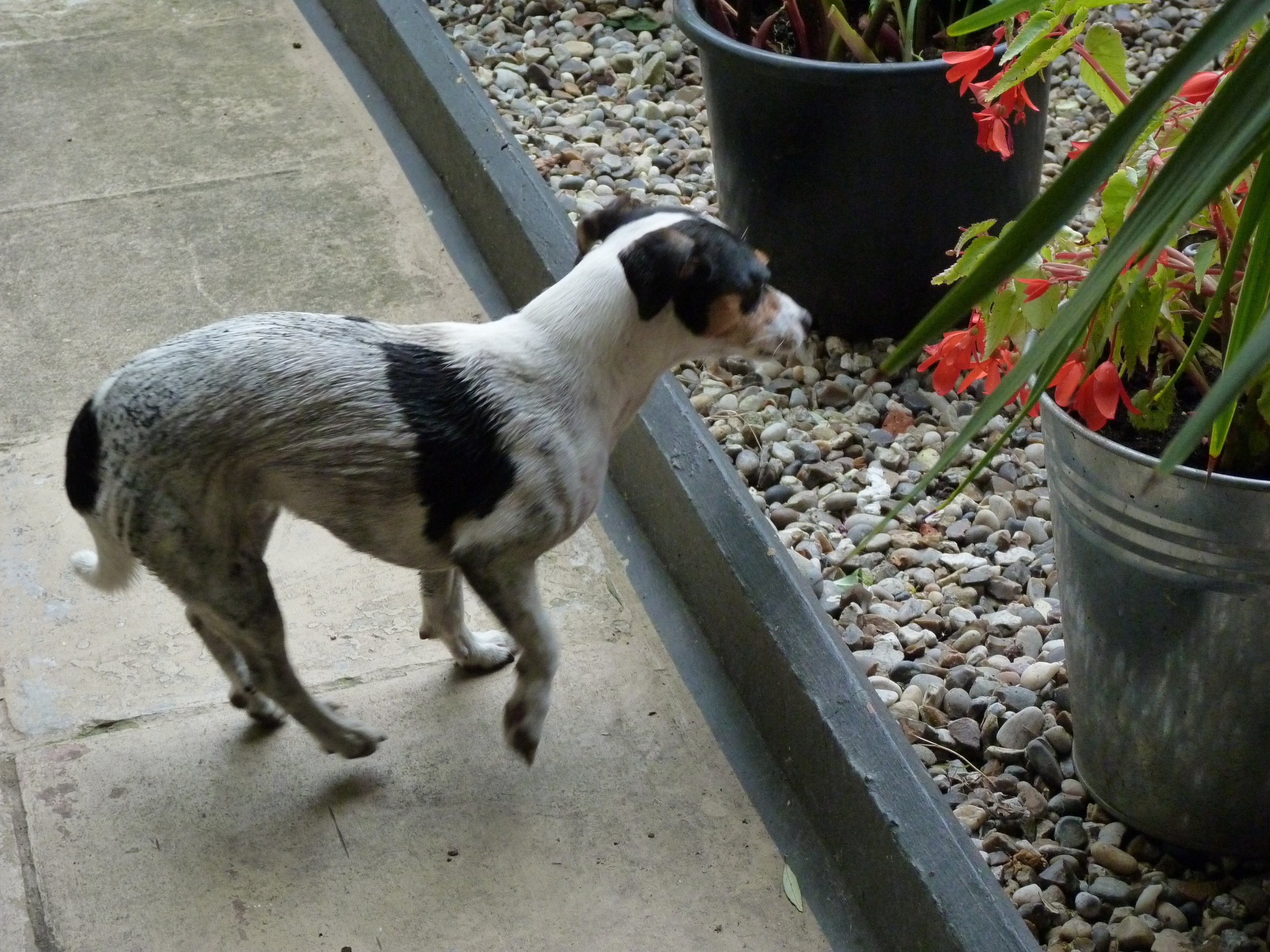 Sometimes I roll in fox poo because I like the way it smells. This makes Olive Daddy very angry because he does not like the way it smells. When I roll in fox poo he says a lot of bad words and makes me take a bath. He washes my fur with shampoo and conditioner. Shampoo and conditioner do NOT smell nice like fox poo. This is where Olive Daddy and I disagree. Which do you think smells better?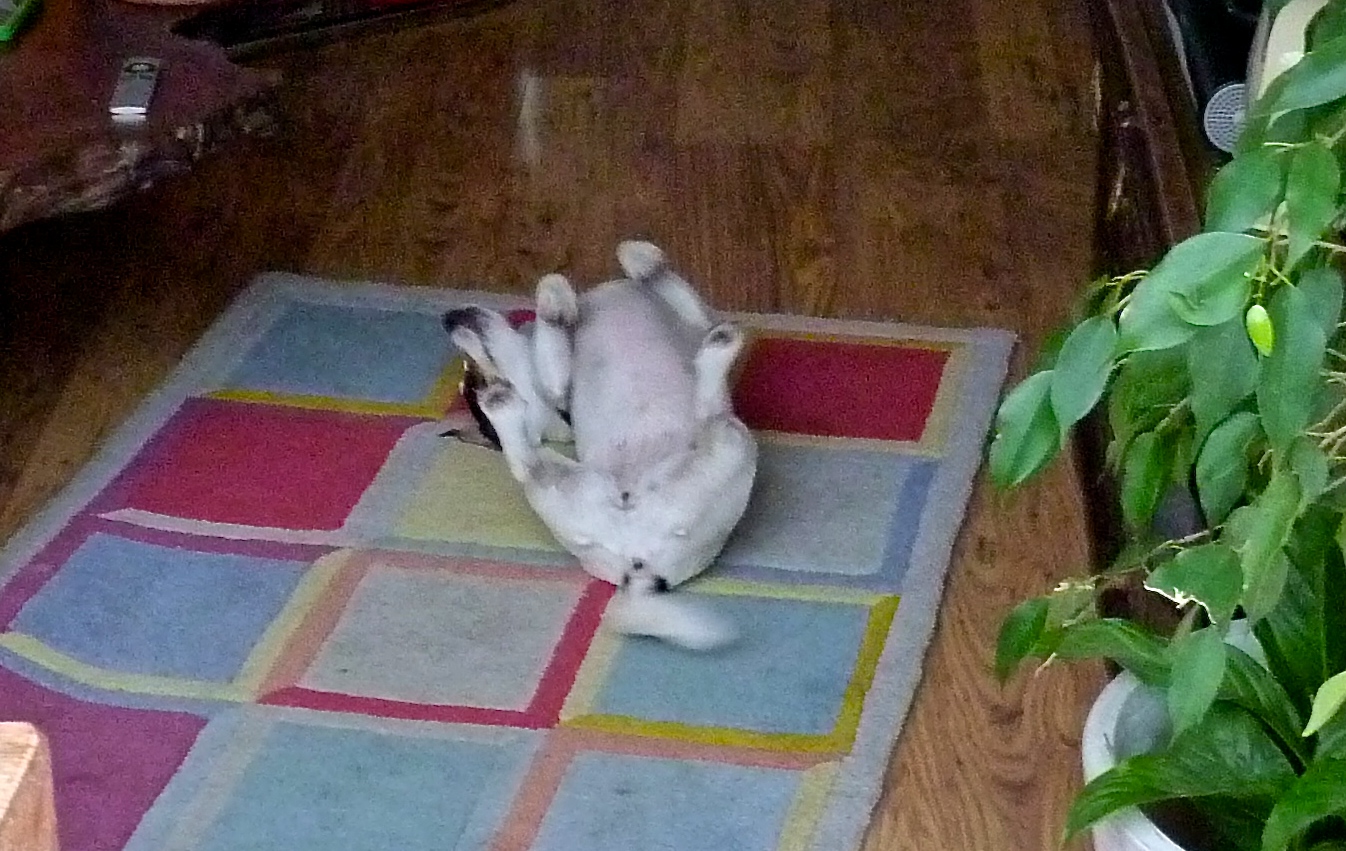 After a bath I roll around on everything to make the smell of shampoo go away. I'd rather smell like carpet! Or better yet: fox poo!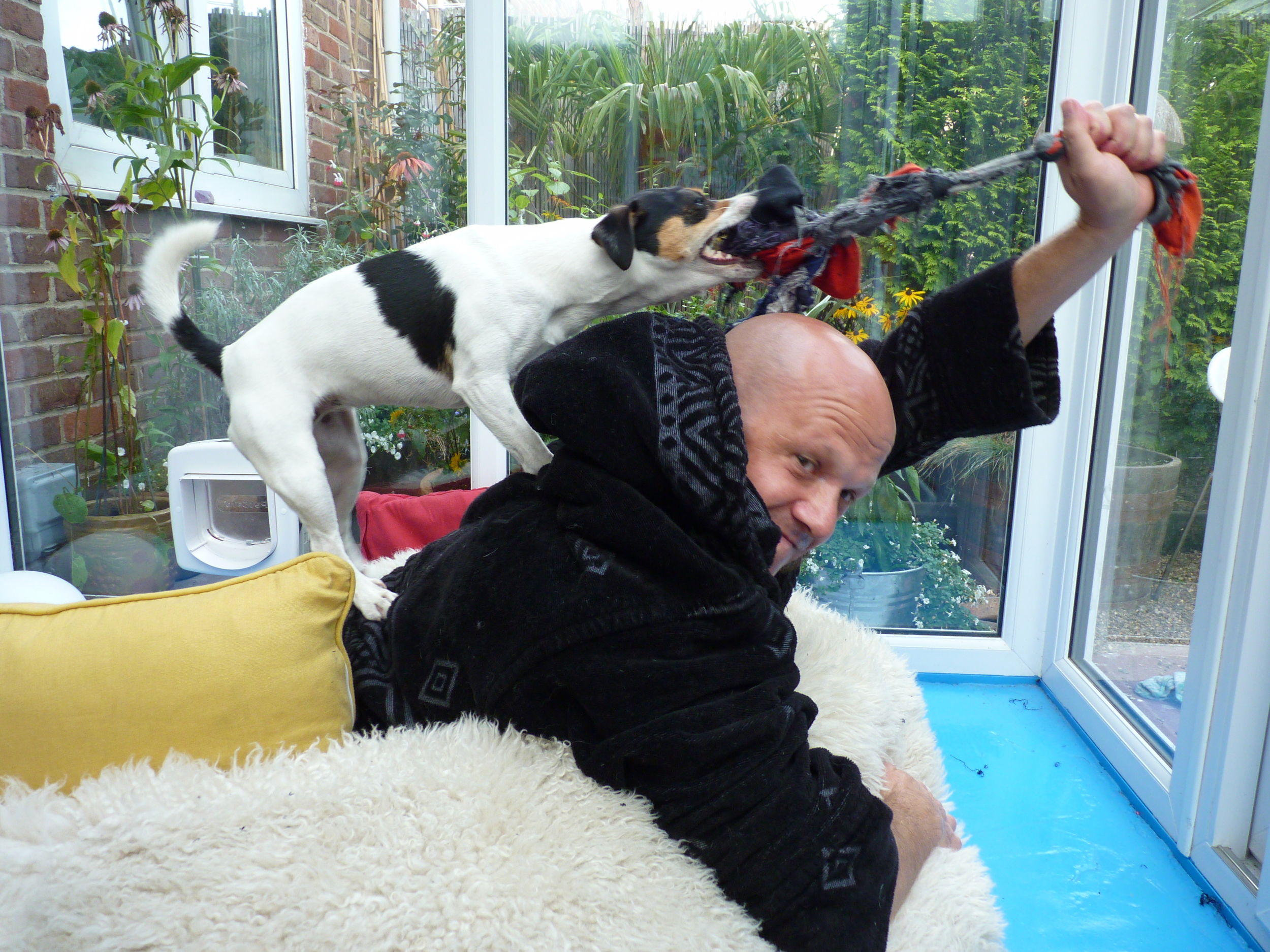 Another one of my favorite games is tug-of-war! Do you like tug-of-war? My favorite way to play is standing on Olive Daddy's back while he's wearing his bathrobe. When Olive Mommy sees us playing like this she says, "You two are ridiculous."
Do you have any questions?
I really don't like to be picked up. Can you tell?
Olive Mommy is much better at holding me than Olive Daddy. Why do you think that is?
Another thing I like to do is destroy feathers. Olive Daddy and Olive Mommy don't know how they feel about this but they love to watch me jump. It took me two years to notice the feathers on Ika Ika Man. Can you see them?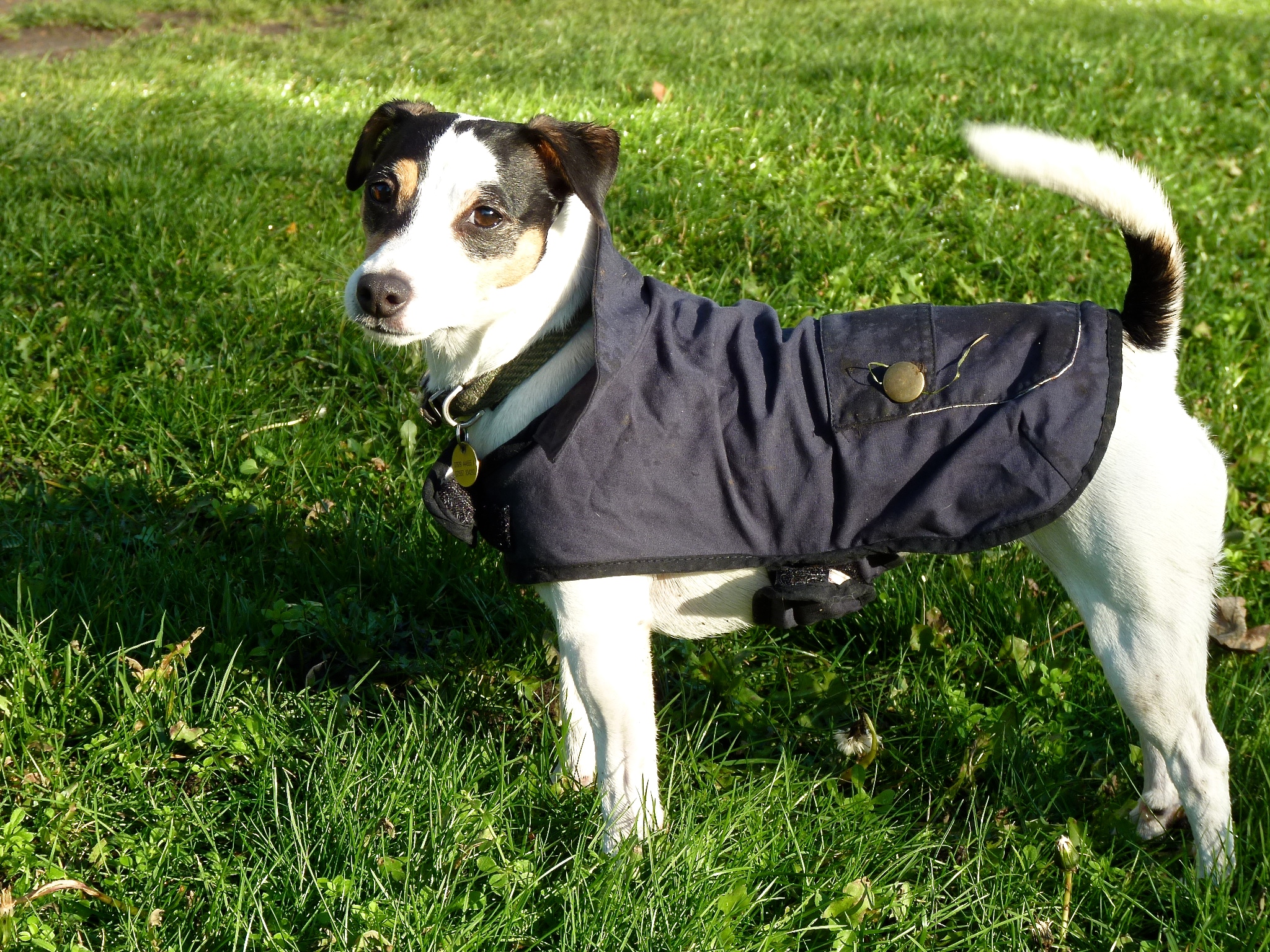 Oh no, they put me in a coat again!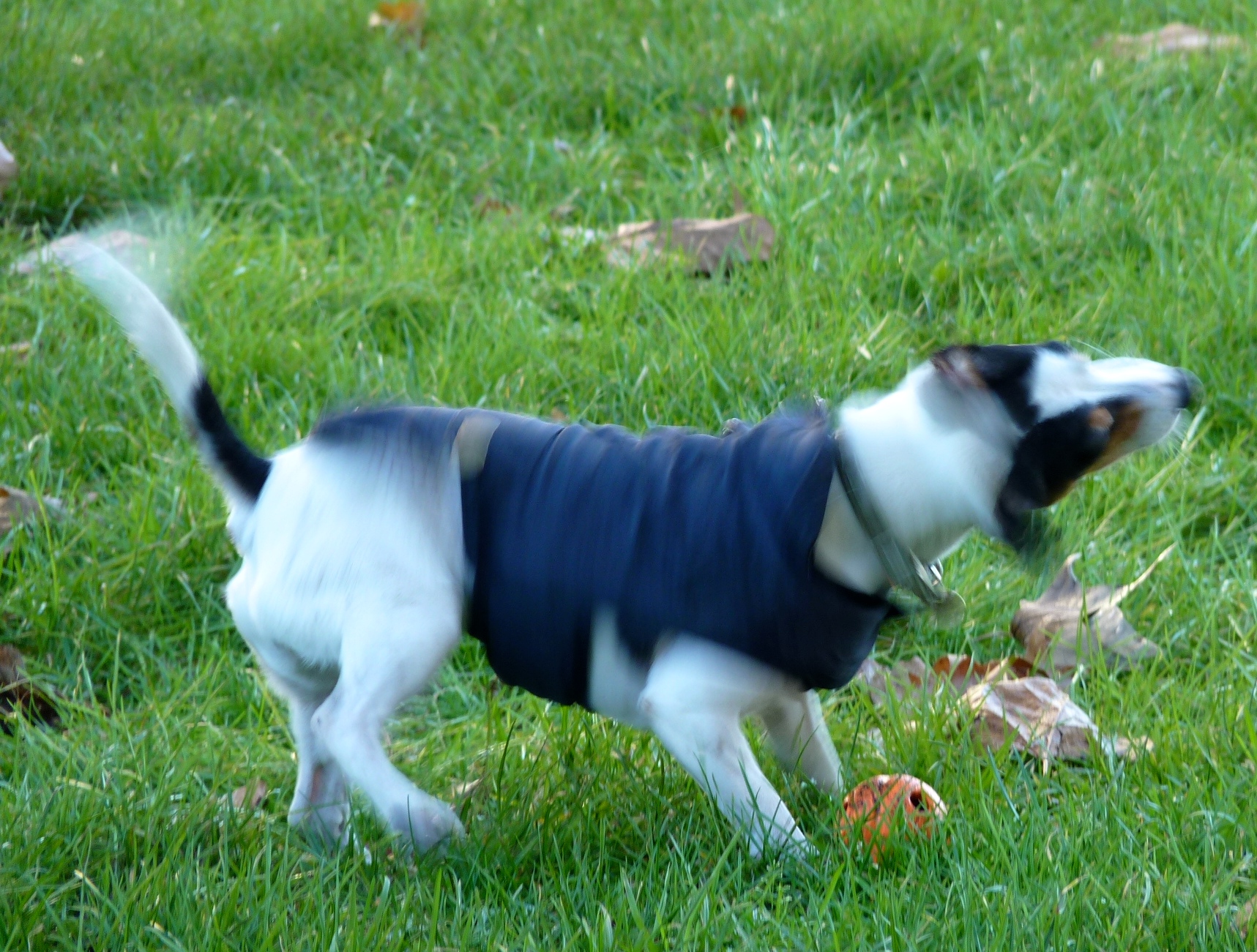 How do I get the coat off? Maybe if I shake really hard?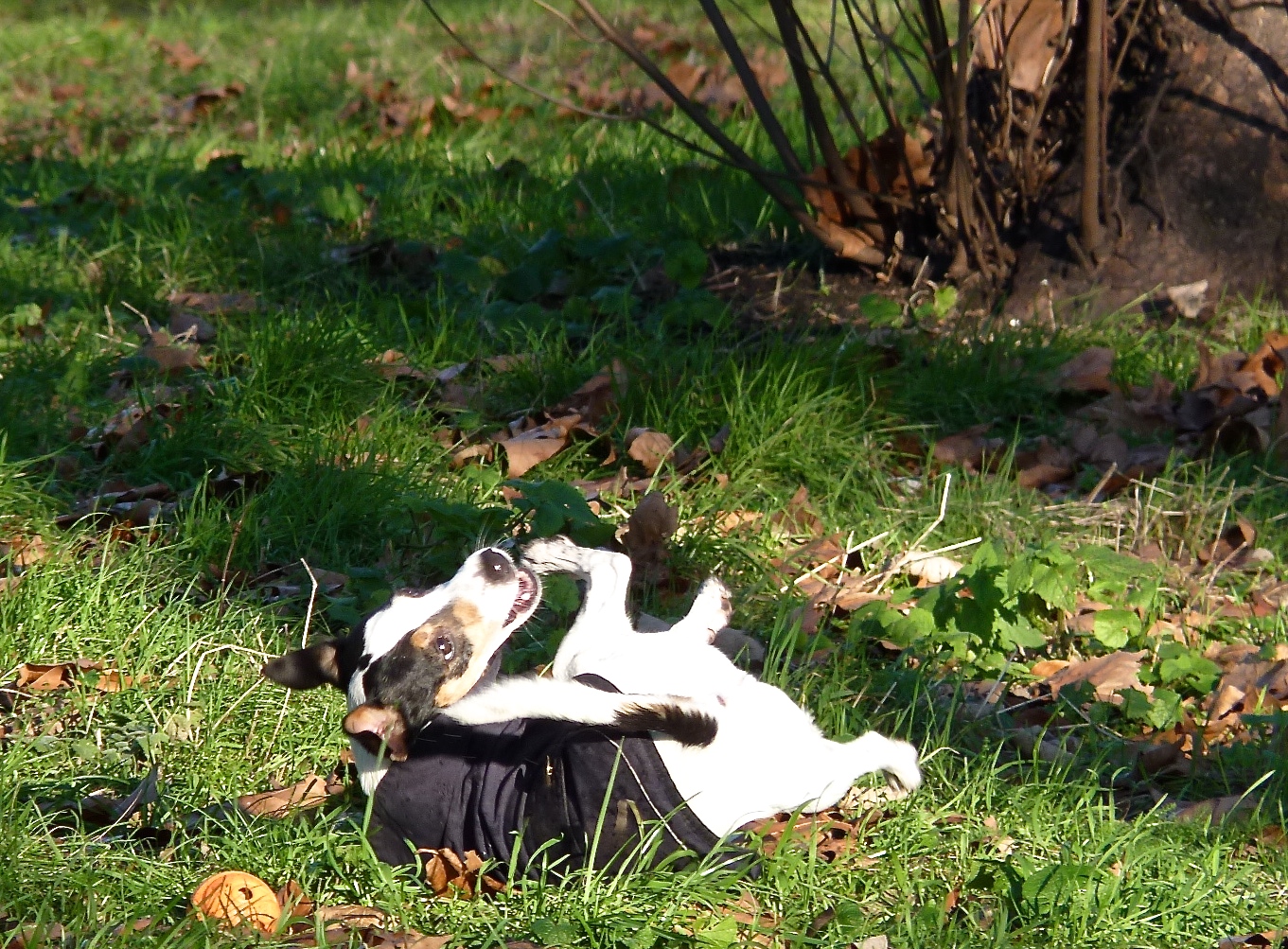 Maybe if I roll around on the ground! Get it off me! I'm already wearing a coat-- it's called fur!
Thank you Olive Mommy for taking off my coat so I can play! I'll wear the coat when it's colder but today I'm fine, I promise.
To be good at something you have to practice but you also have to concentrate! The ball is moving very fast but if I concentrate and time my jump just right....
When Olive Daddy was little, he lived in Los Angeles, near where you two live now! He went to high school with your Mom. When he lived in LA, Olive Daddy used to play frisbee with his friends. In London nobody wants to play frisbee. They'd rather play soccer, which Olive Daddy finds very boring. I'll play frisbee with you Olive Daddy! Can you teach me how?
What are you thinking about right now? I'm thinking about cheese.
Once or twice a year I get a new collar and leash from a local designer ("Ooh, Darling!"). I wear a size small. The shop is called Love My Dog and they have a very nice dog named Rabbit. Isn't that funny-- a dog named Rabbit! He always eats my treats but I don't mind sharing. Do you share your treats?
Animals that have fur. give birth to live young and feed them milk are called mammals. Olive Mommy and I are Olive Daddy's favorite mammals!
This year I wanted a red collar and leash to match Olive Mommy's outfit. How do you think I did?
(I think we totally rocked it-- you girls know what I'm talking about!)
I feel like someone's watching me...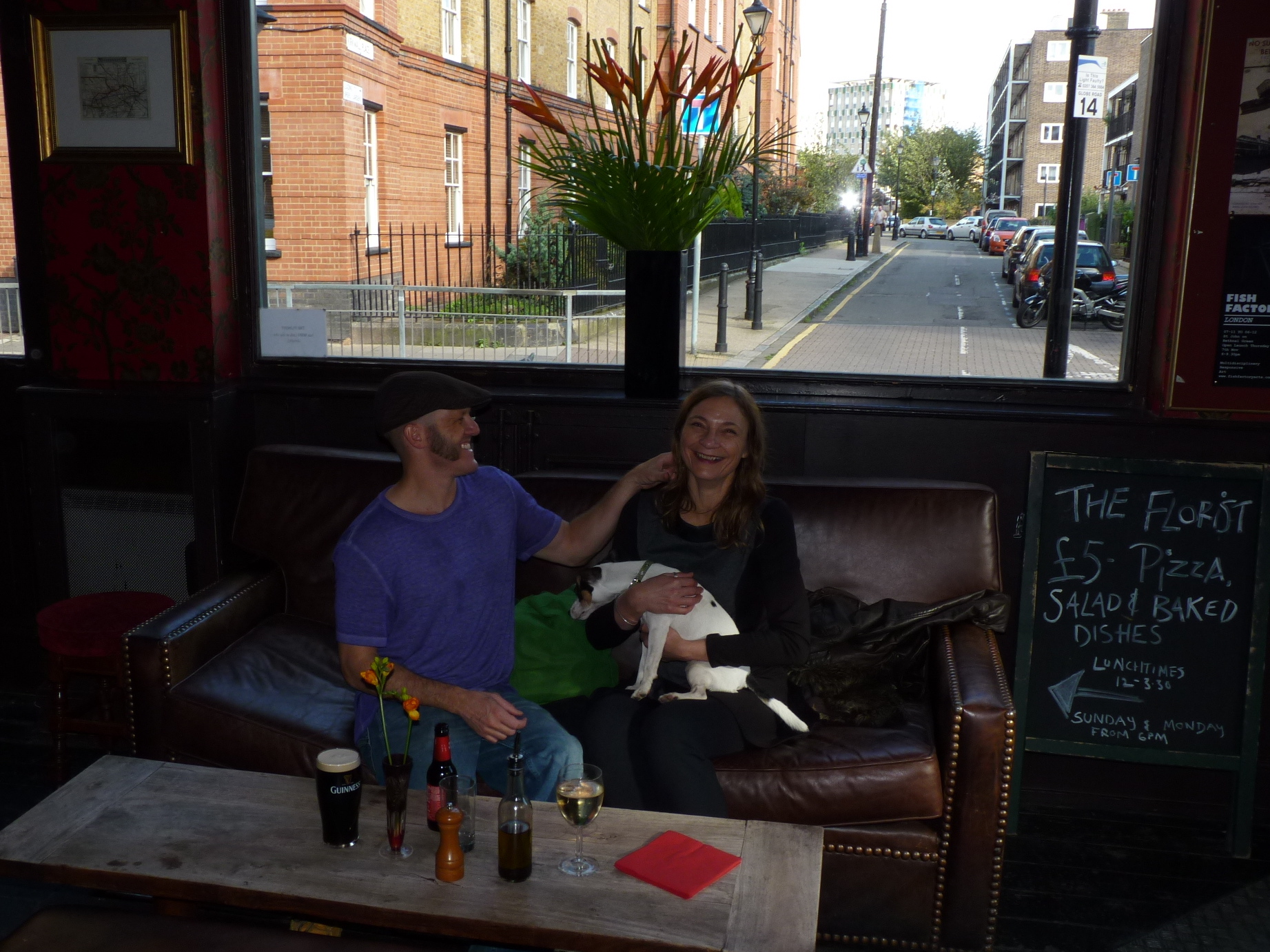 This is where my humans and I go on Sunday to have lunch. It's a pub called the Florist and I am an honored guest. People play with me there and sometimes give me ham! I love ham! And I only get it at the Florist. Yay, Sunday!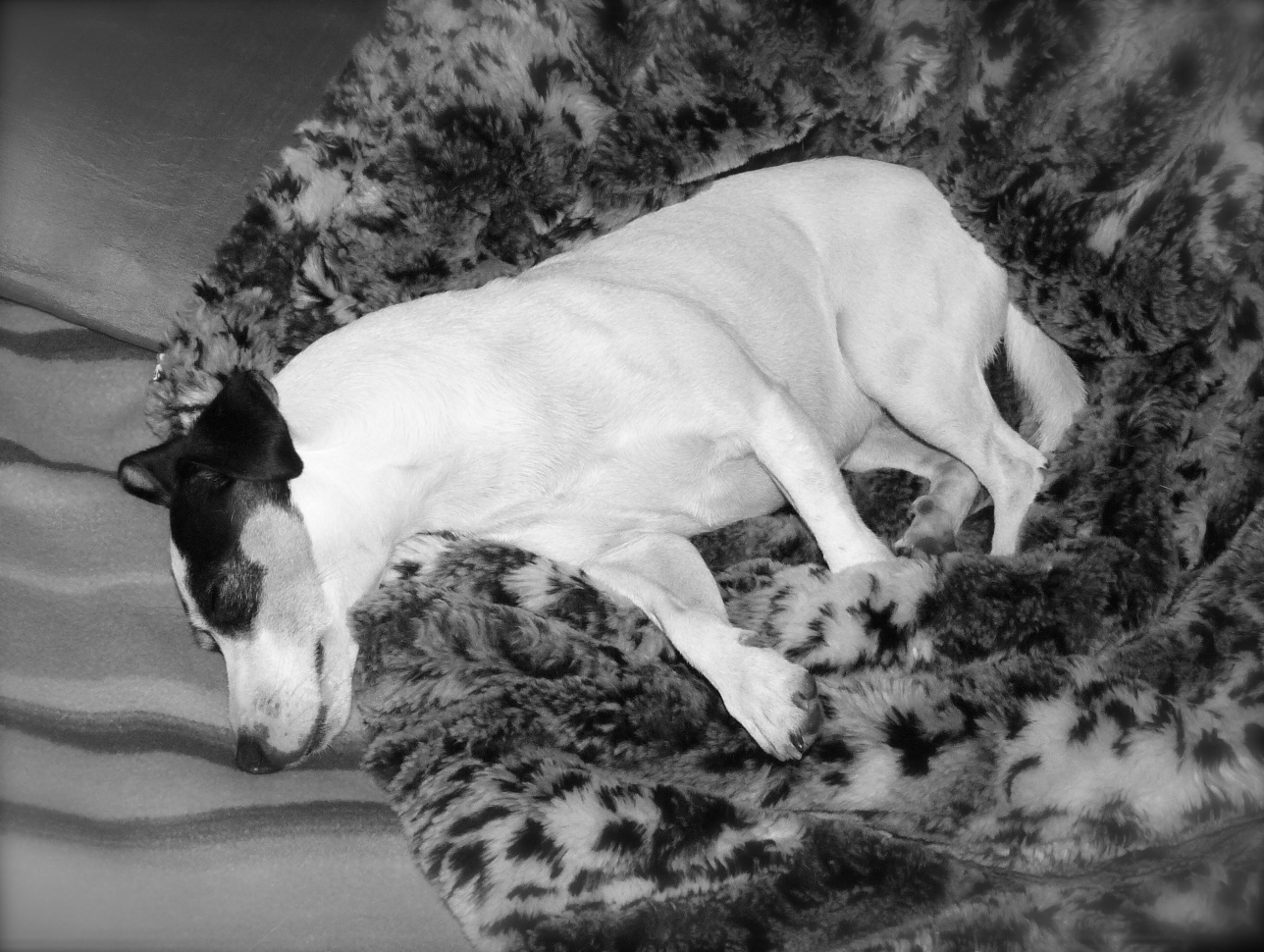 Nap time! Some people say they dream in black and white, others say in color. Do you think I dream in black and white? Or blue and yellow? How do you two dream?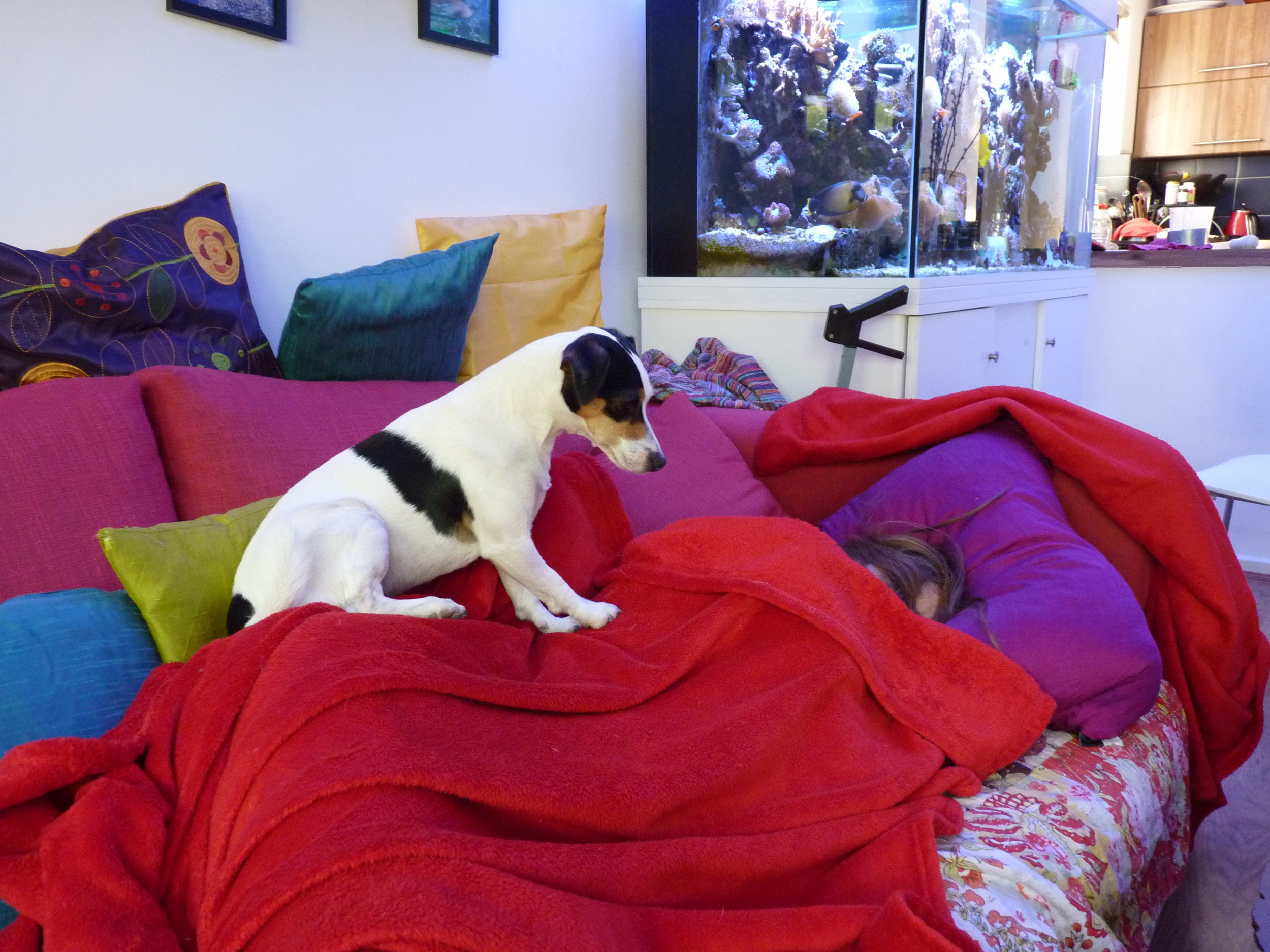 Why does Olive Mommy sleep when it's time to play? Naps are for Olive!
The vacuum cleaner is my sworn enemy. Not only does it have bristles it pretends are fur (like brooms!) but it makes a lot of noise. Do you know why I hate it? Because nature abhors a vacuum! (ask your mom)
Will this place give me ham?
If your Mommy isn't smiling I recommend licking her chin. Works every time. Try it for yourself!
Why did they build a chair that faces a wall?
Sometimes, Olive Daddy's Mommy comes to visit. I like her. She gives me lots of treats.
Sometimes humans are slow and I have to wait for them to catch up. I make sure they never go where I can't see them. Do you do that with your humans?
This is a very famous spot in London. It's famous because I've been there. I think.
I like the Tube when it's not too hot, not too crowded and when Olive Mommy gives me scritchees.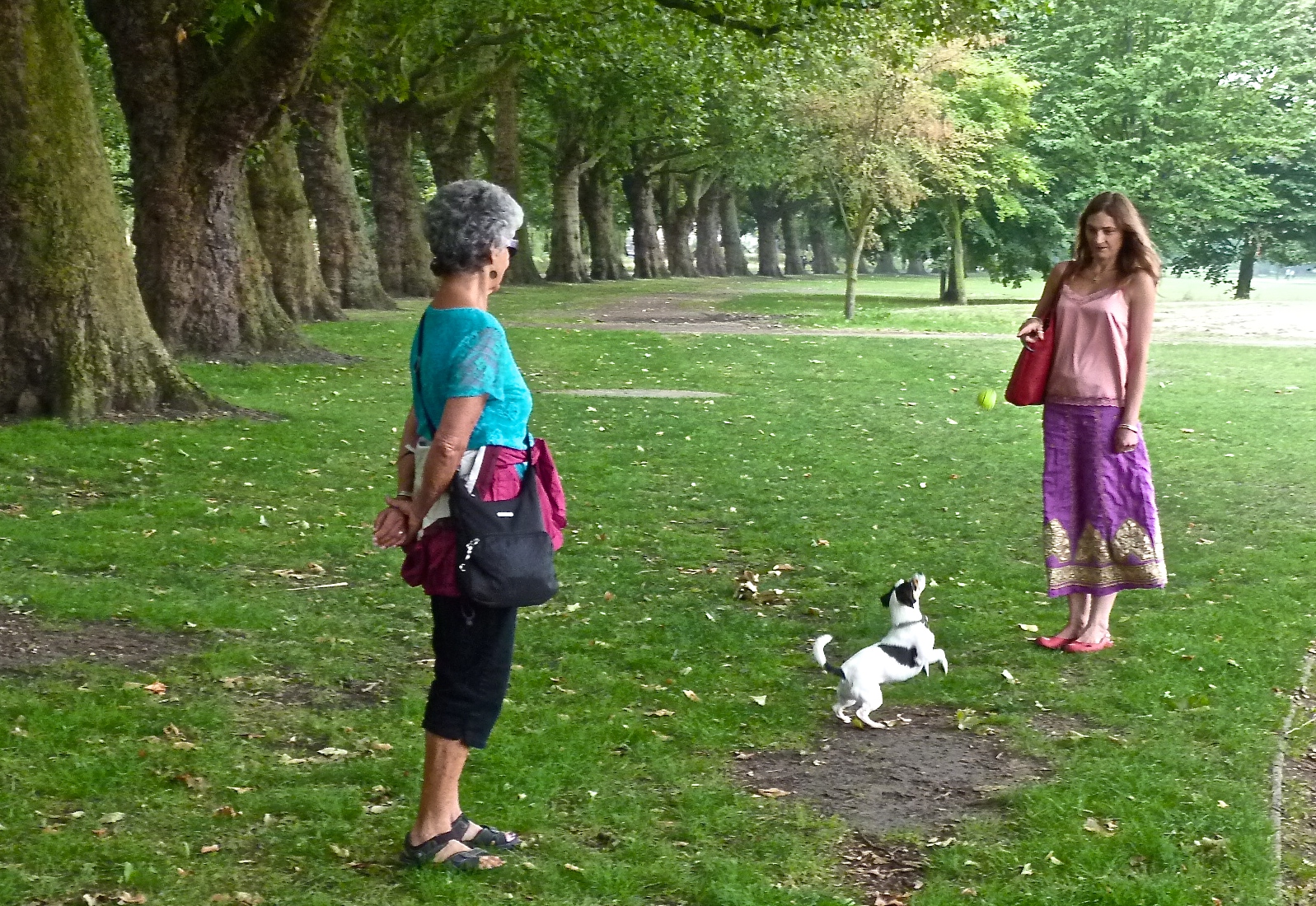 This park is called Victoria Park. We go here a lot. It is a great place to practice chasing balls and frisbees. Do you remember my favorite colors?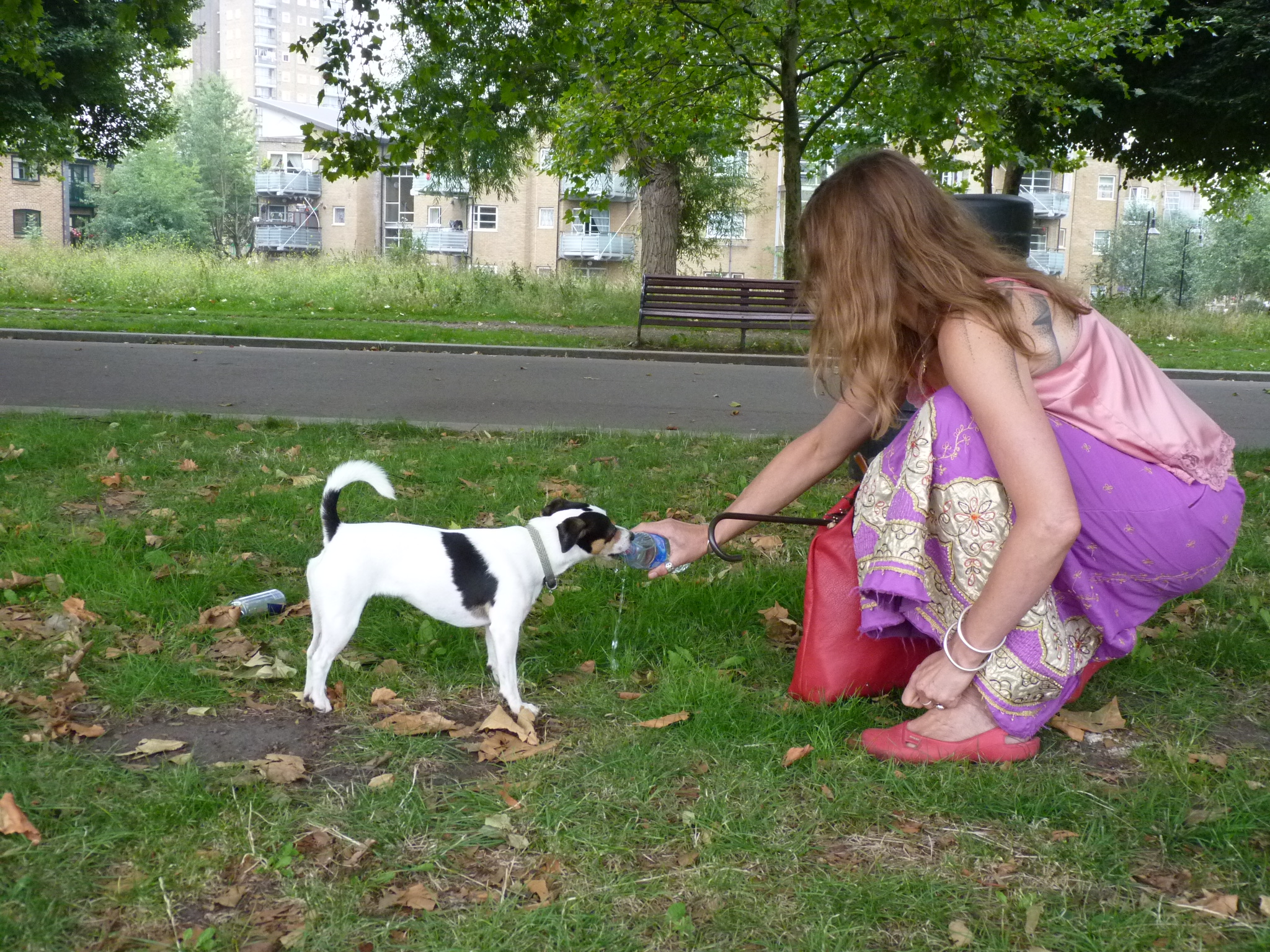 When it rains I like to drink from puddles. When there are no puddles I drink from my special bottle or sometimes from the frisbee. Drink is a word I know!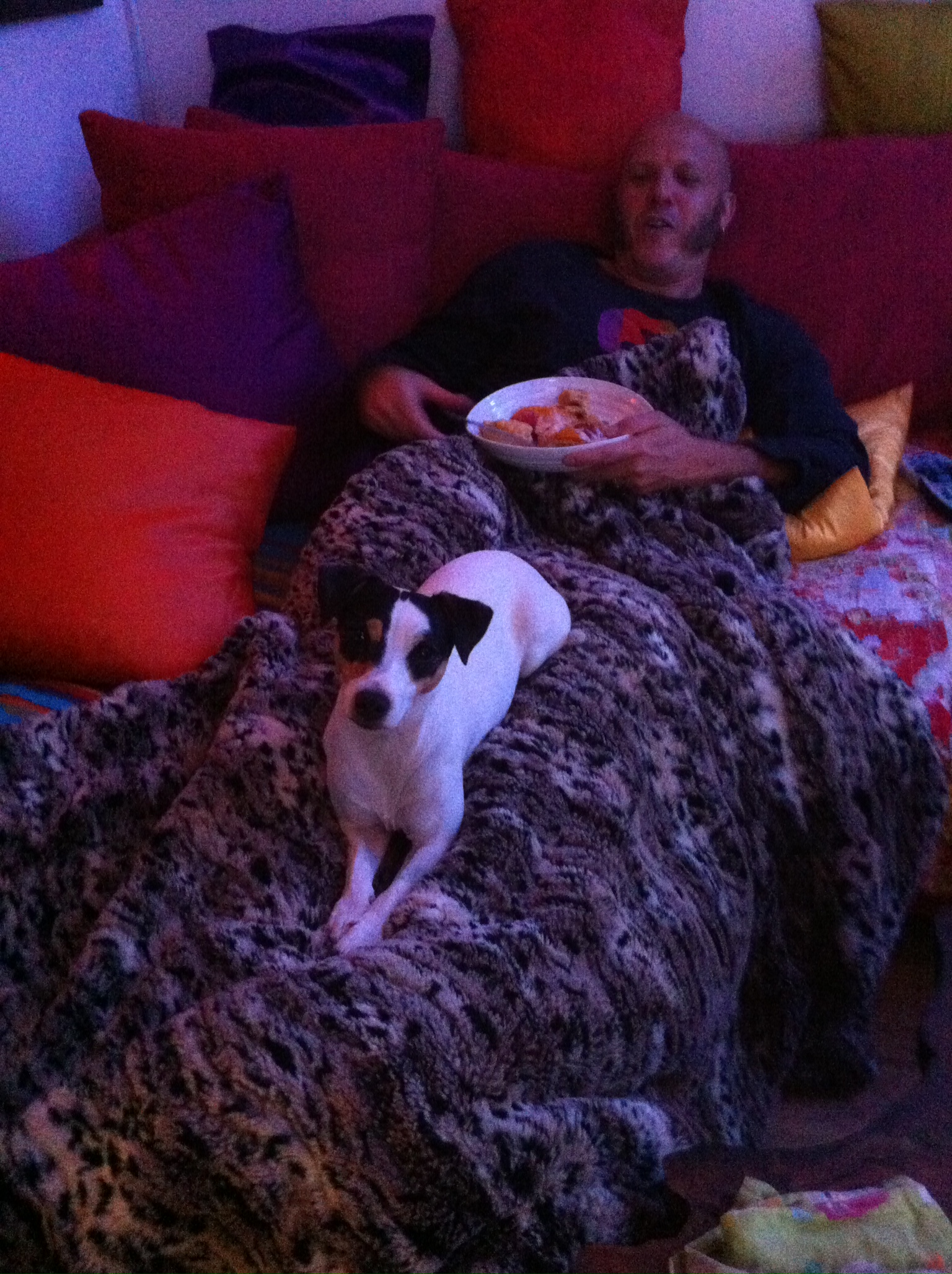 One rule I always follow is no begging for food! Humans don't bothers me when I eat so why should I bother humans? This is part of being a good dog!
Look how sharp my teeth are! Don't be afraid: I'm only yawning.
I like to ride on cars and boats. This is a lake in Victoria Park where Olive Daddy likes to row.
Looks like Olive Mommy needs to smile more!
Olive Mommy doesn't like to get her head fur wet. I love it when it rains.
This is Uh-Oh the squirrel. He lives in the trees next door. Squirrels belong in trees. Squirrels are not allowed on the ground. Dogs are here to enforce these rules! Back in the tree Uh-Oh!
Only Olive Mommy and Olive Daddy are allowed to scratch my tummy. And only in the morning. When do you let your Mommy and Daddy scratch your tummy?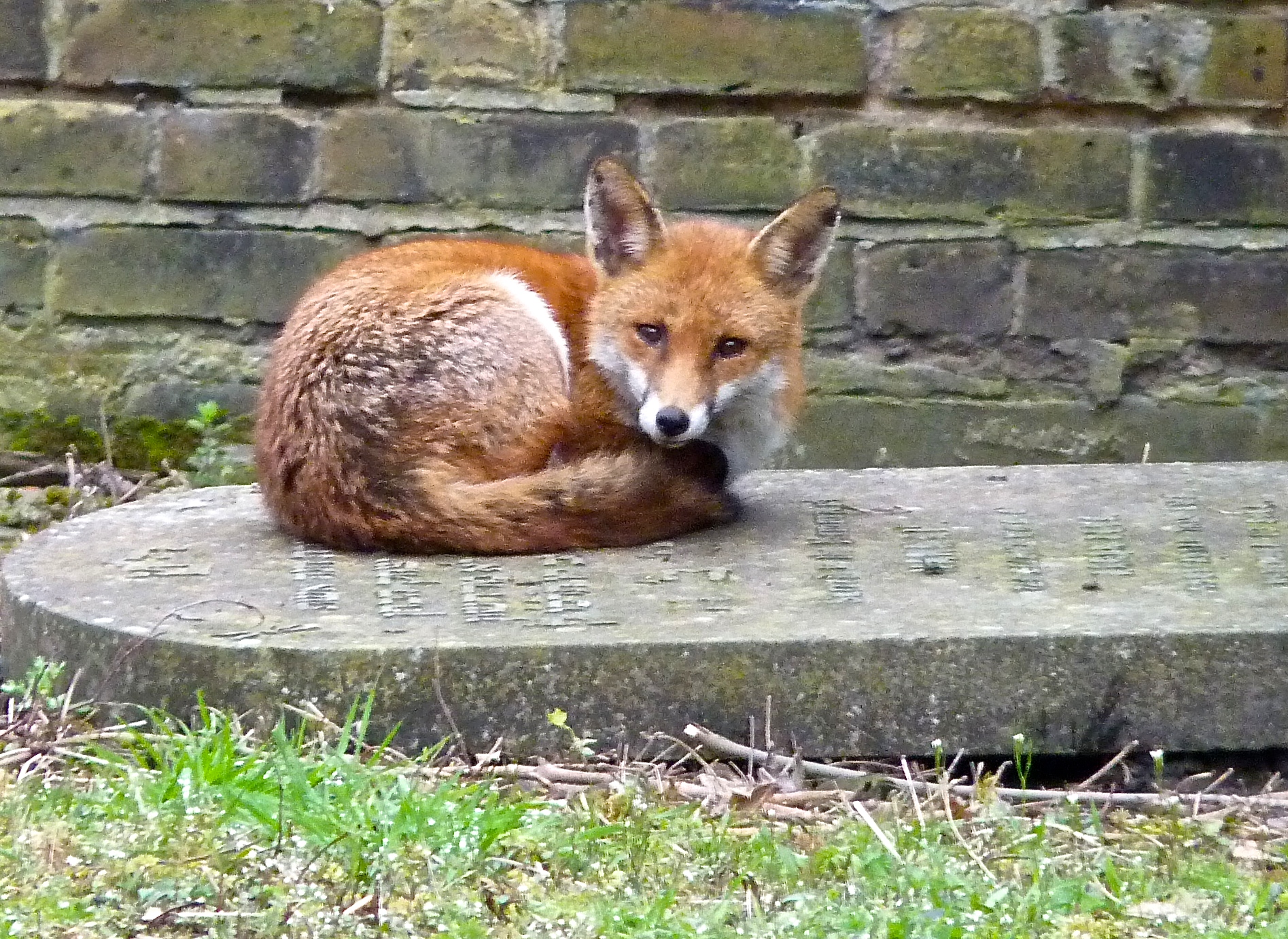 This is Foxykins. Foxykins is a red-tailed fox who lives next door. She is pretty and smells good but likes to eat birds. Olive Daddy loves birds. My job is to protect the birds from Foxykins. Stay away from our garden, Foxykins!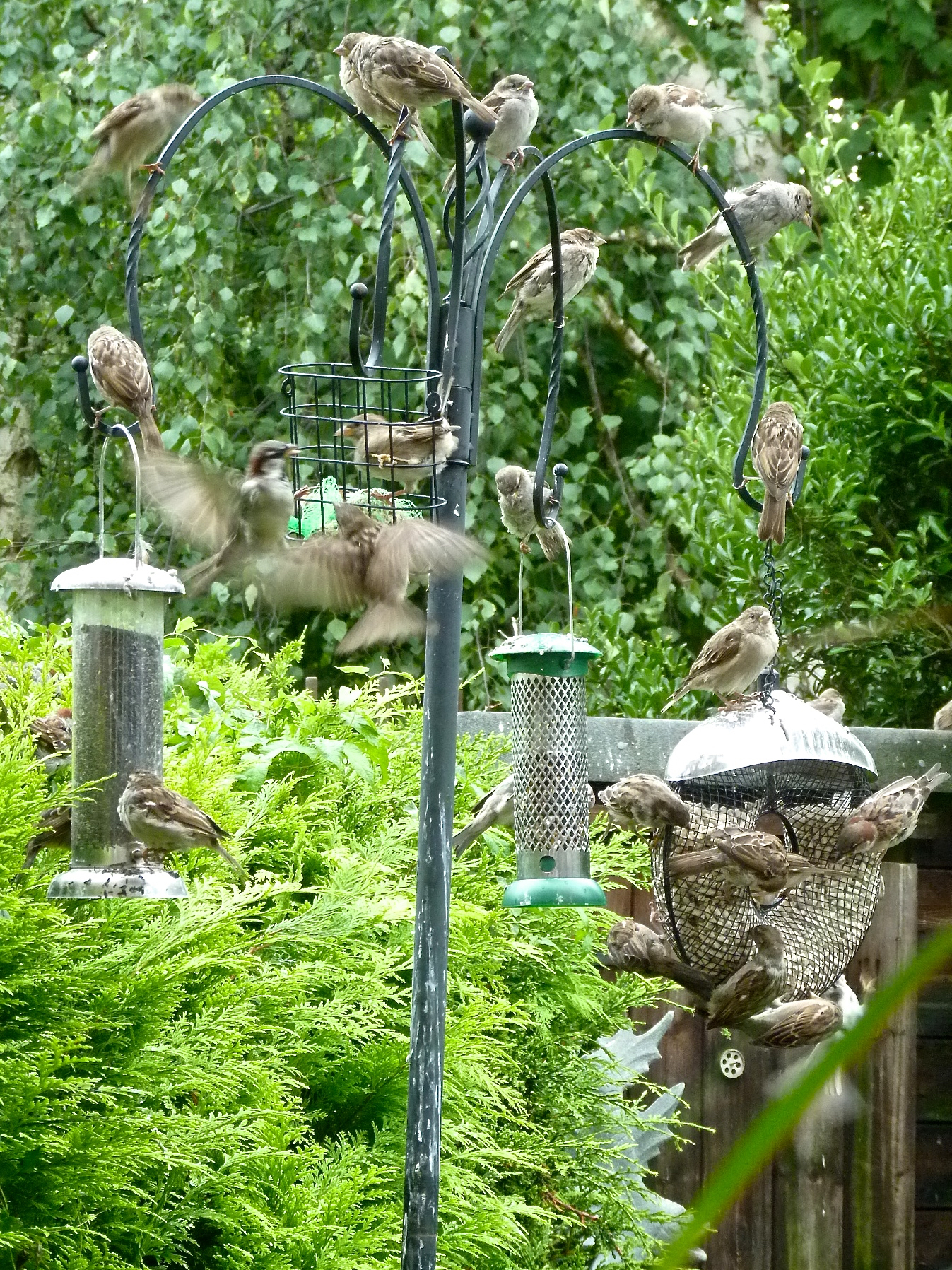 This is our bird feeder. I protect the birds who eat here from Foxykins and from kitty cats. If someone shouts "Kitty!", I run into the garden barking and chase the cats away! Kitty is a word I know. The birds in this picture are called sparrows. How many sparrows can you count?
These are Olive Daddy's favorite birds. They are called Goldfinches. I don't see what the big deal is. Do you think they're pretty?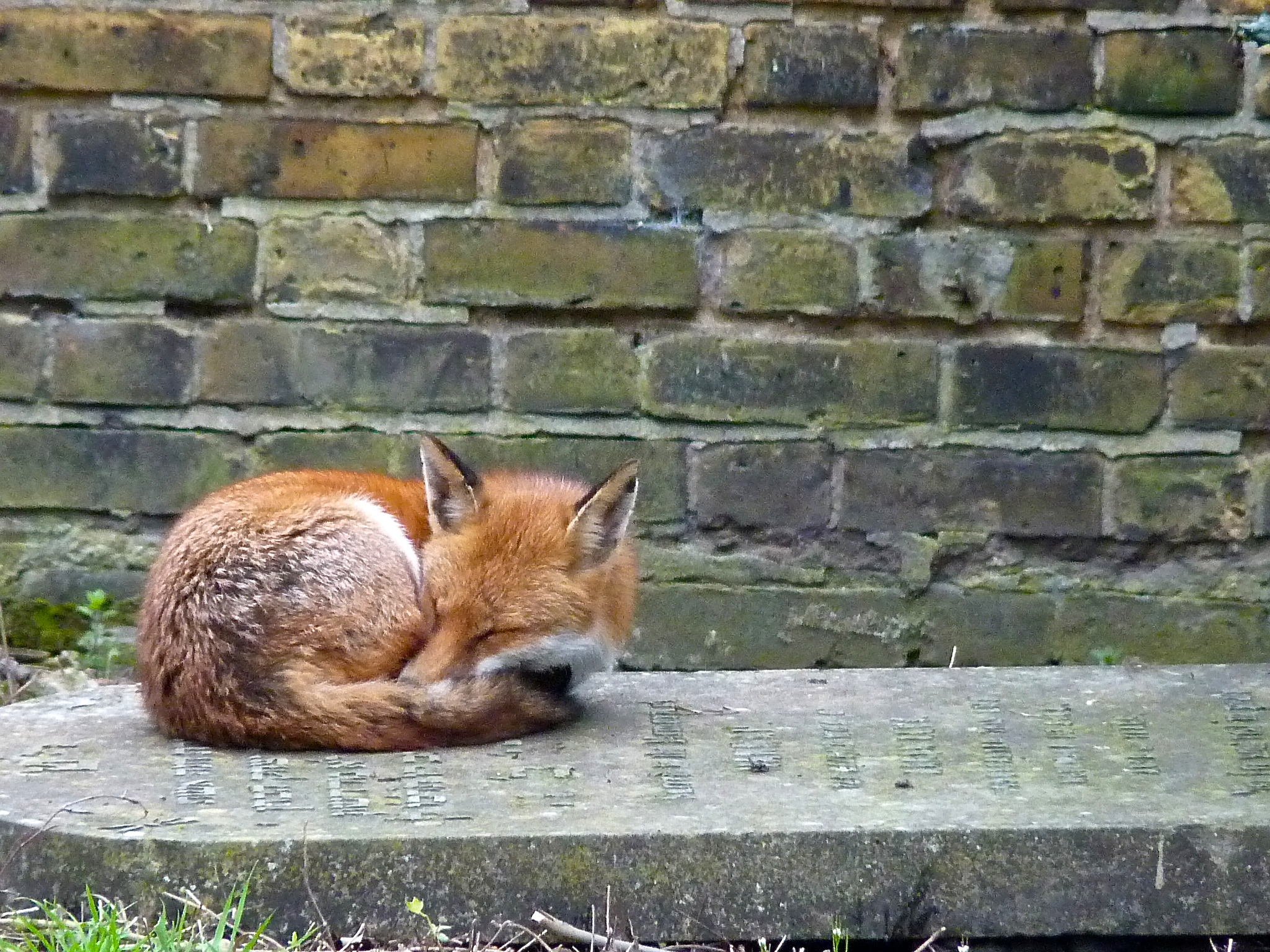 That's right, Foxykins, you go back to sleep. I'm watching you!
Go back into your tree, Uh-Oh! The food in the bird feeder is for birds! Bark! Bark! Bark! I am a very quiet dog but not when Uh-Oh is around. Or the evil vacuum cleaner!
Sometimes Olive Daddy's friend Jason comes to visit. Your Mom and I went high school with Jason. Why do humans sit on that chair? What do they see? Humans are weird sometimes.
This is our garden. Sometimes I drink from the pond in the middle. The pond has goldfish in it which makes the water taste delicious. Do you like fish-flavored water? I do!
This is one of the goldfish that makes the pond delicious. His name is Moby. Whenever Olive Daddy feeds the fish I say, "Ruff!" This is one of my favorite things. No one knows why. Do you?
This is one of Olive Daddy's best friends, David. I know David is a good man because Olive Daddy let him sit on the bed where Olive Mommy and Olive Daddy and Olive sleep. Only special humans get to sit on that bed.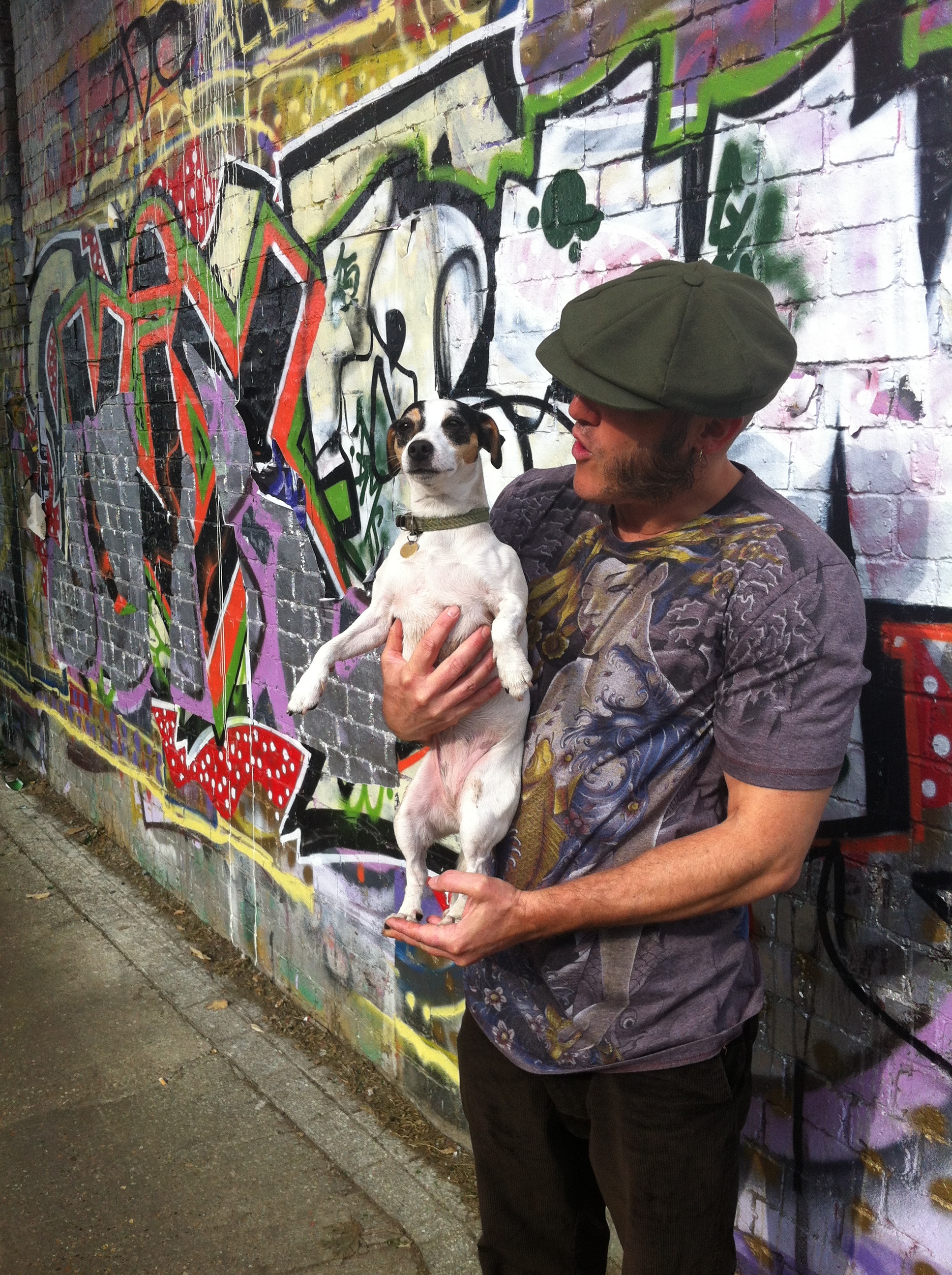 Does it look like I enjoy being picked up?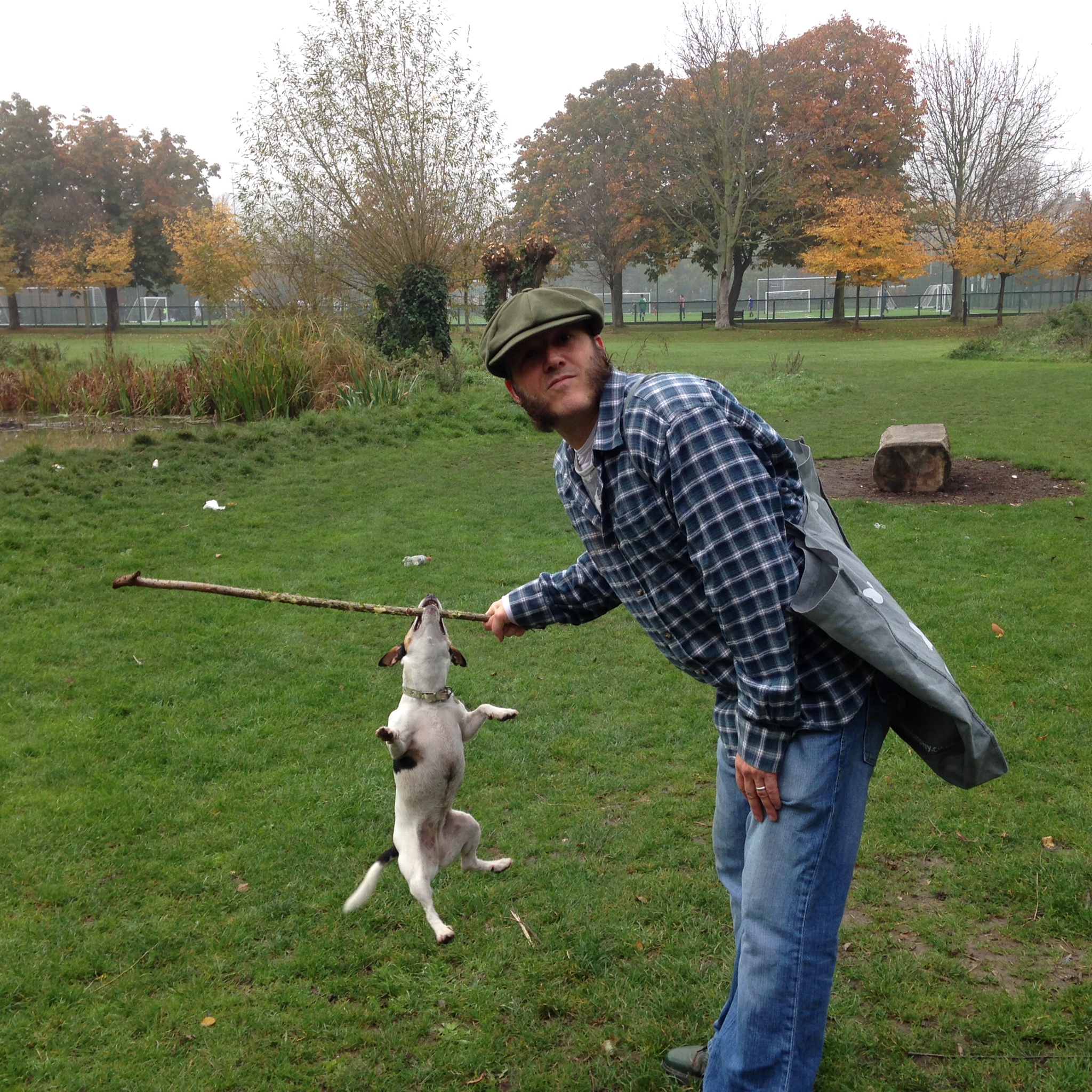 I like to chew on sticks. I don't like to let them go. Do you like to chew on sticks?
One time I got very hot after playing. I slapped my water bowl around until water spilled on the floor. Then I lay down in the cool water. Olive Mommy says that proves that I'm a genius!
Olive Daddy is a writer. He practices writing every day, almost as hard as I practice chasing balls and frisbees. When he writes I take a nap between his knees. Sometimes we stay like that for hours!
If Olive Daddy spends too long in front of the computer his head hurts. To stop his head from hurting I wake up and let him know it's time to play. He knows I'm right. I have trained him very well.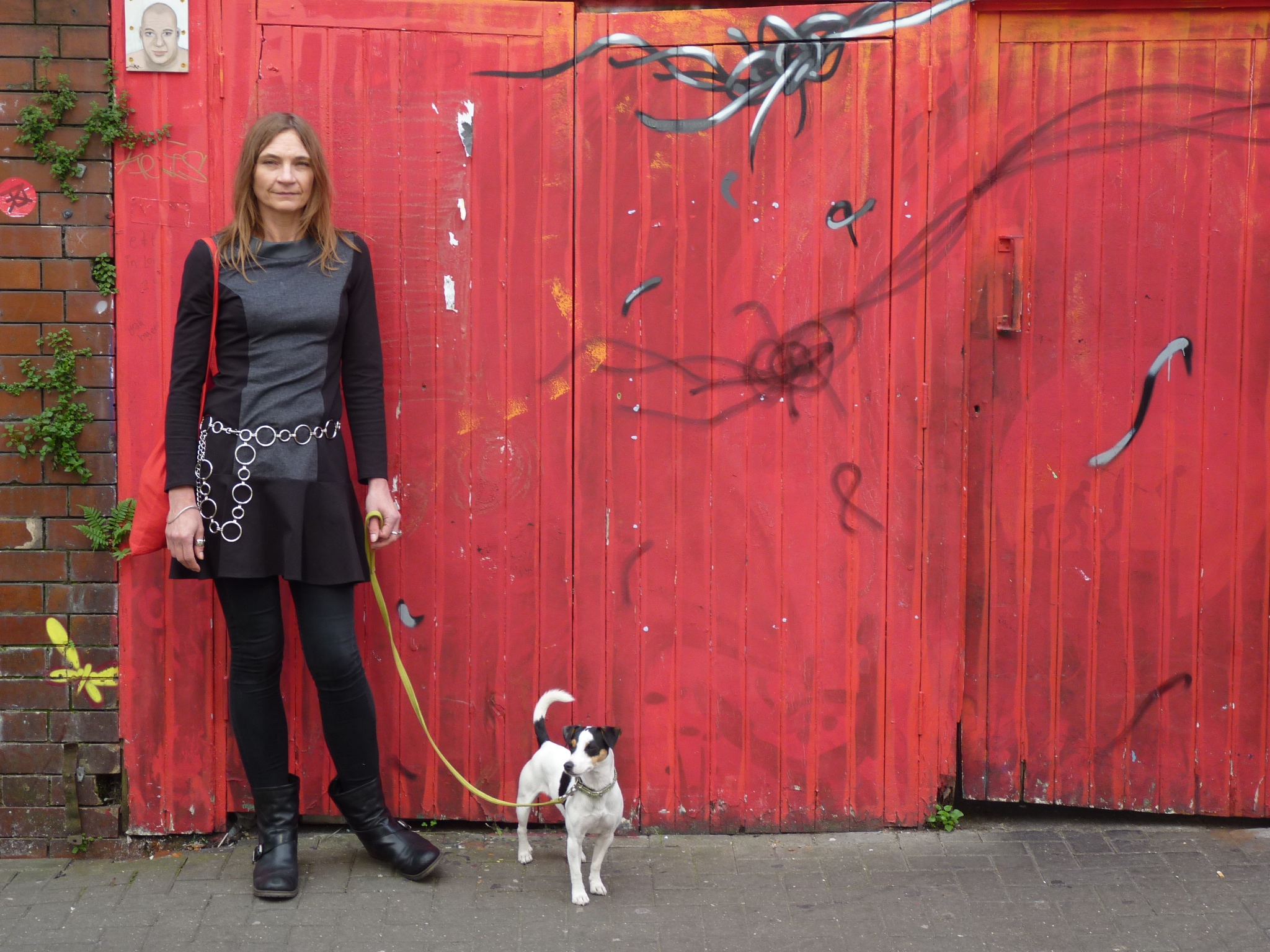 London is a very stylish city. Do I help Olive Mommy look stylish? Or does she help me? I think we help each other.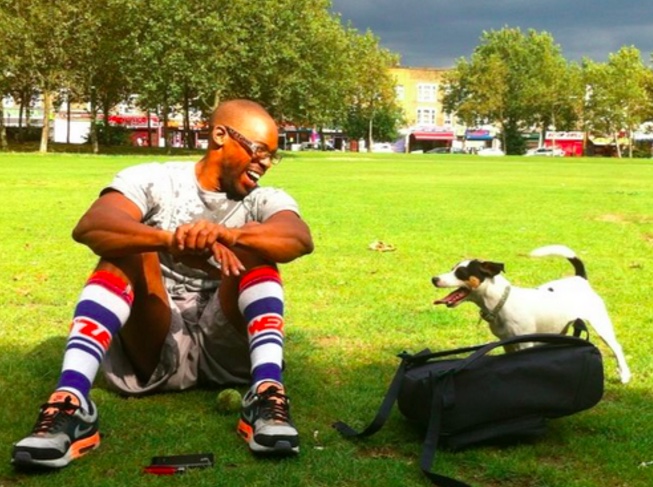 Speaking of stylish: meet Mikey. He is one of my best human friends! He and Olive Daddy go into the park and climb on jungle gyms to stay strong. Do you like to climb on jungle gyms? Whenever Mikey comes by I know we're going out to play, no matter what the weather. When I see Mikey at the door, I run around in circles! Do you like his socks? According to Olive Daddy, "MIkey is killing the sock game."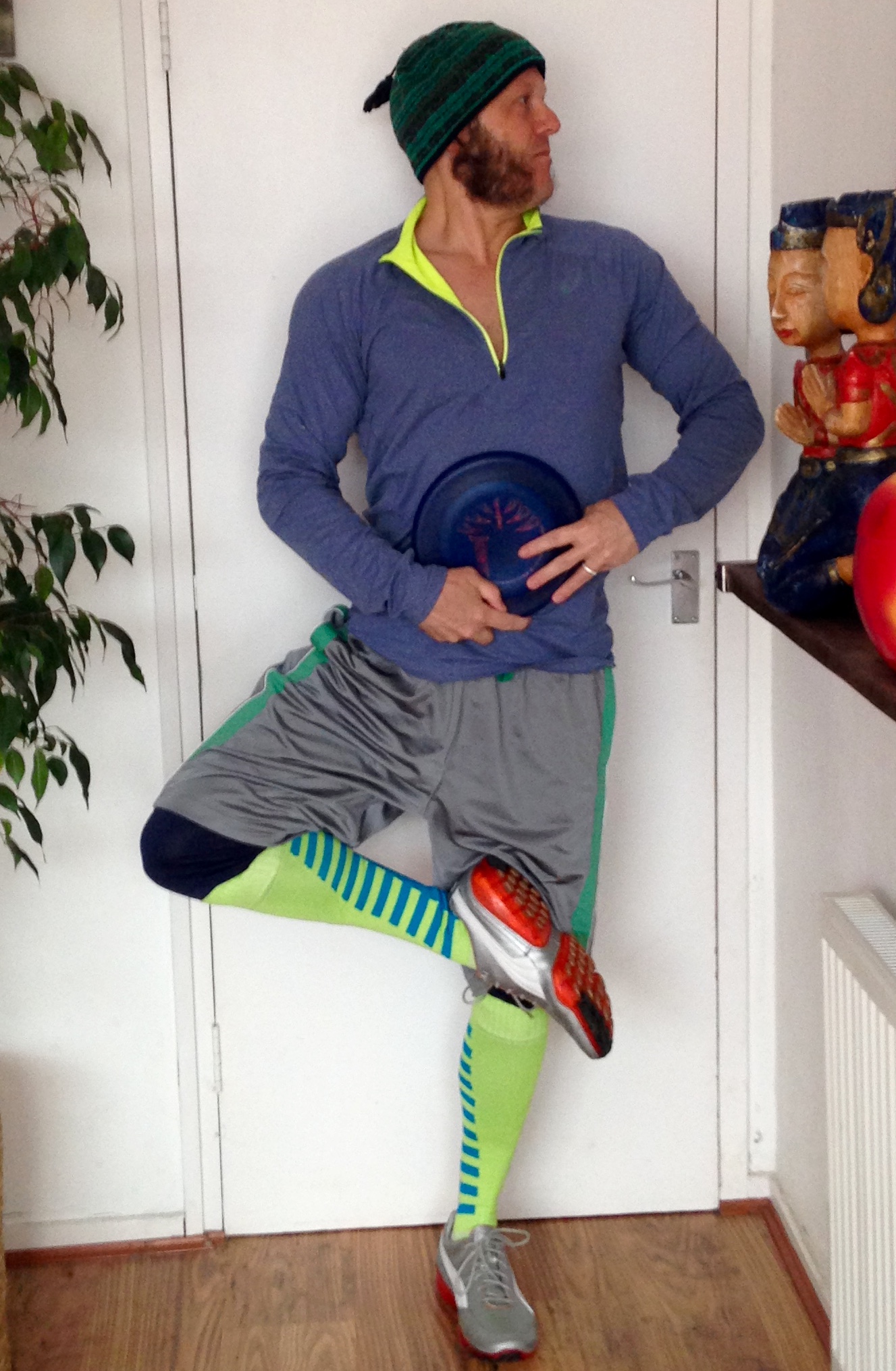 I love to play with my blue frisbee! When Olive Daddy dresses fly like this I know it's going to be a great day.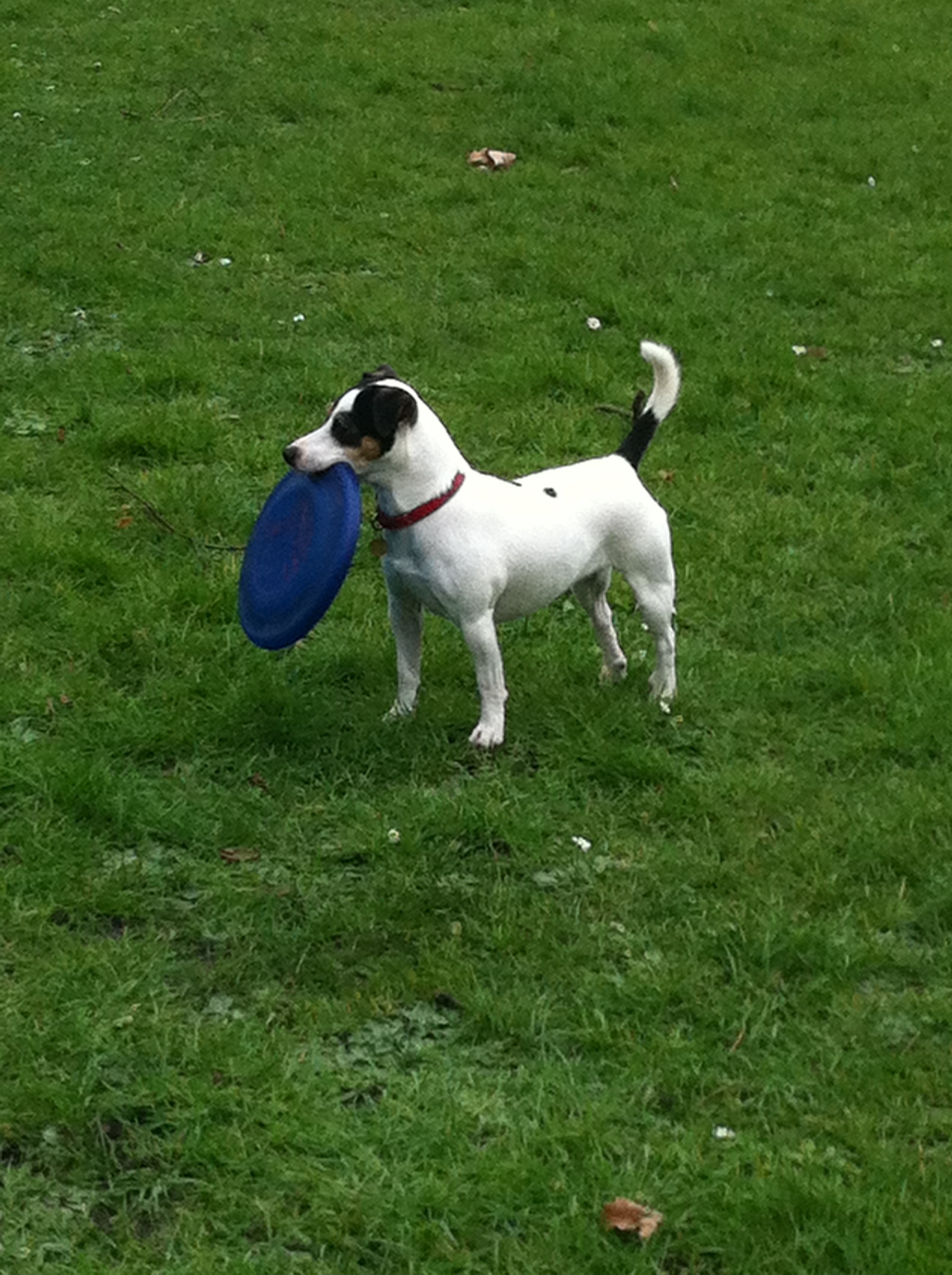 When I catch the frisbee it's very important that everyone watching shouts, "Booyah!" I just caught the frisbee so....
After a hard day catching frisbee it's time--- zzzzzzzzzzzzzz....
"Olive! Did you do this?"
I'm not sure about Daddy's new outfit. What do you think?
I don't like being picked up but I do like to sit on Olive Daddy's lap. Especially when he gives me scritchees!
Sometimes I have no idea what Olive Daddy's saying. I'm not the only one.
This is our friend Kat with a K! (Olive Mommy is Cat with a C, remember?) Kat with a K walks dogs for a living. All the dogs in the neighborhood know Kat with a K is in charge! Kat with a K belongs to Bulli. Bulli is my best dog friend. Can you guessed which one he is?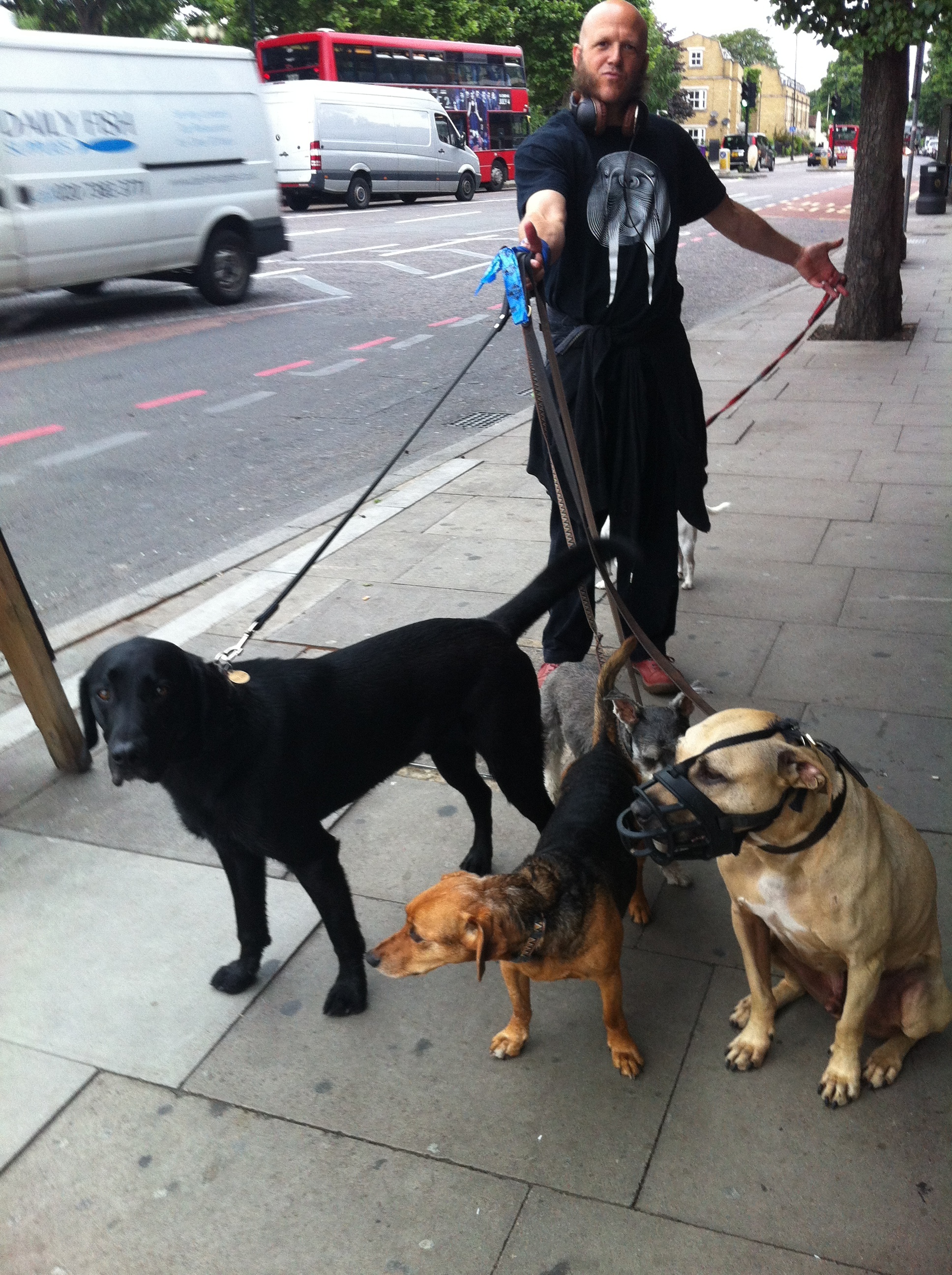 Sometimes Olive Daddy has to hold all of Kat with a K's dogs while she buys coffee. Do you think I like this? Can you find me in this picture? Have you figured out who Bulli is?
I love riding in the car! Do you know what I love more than riding in the car?
Riding in the car with Olive Daddy and my best dog friend, Bulli!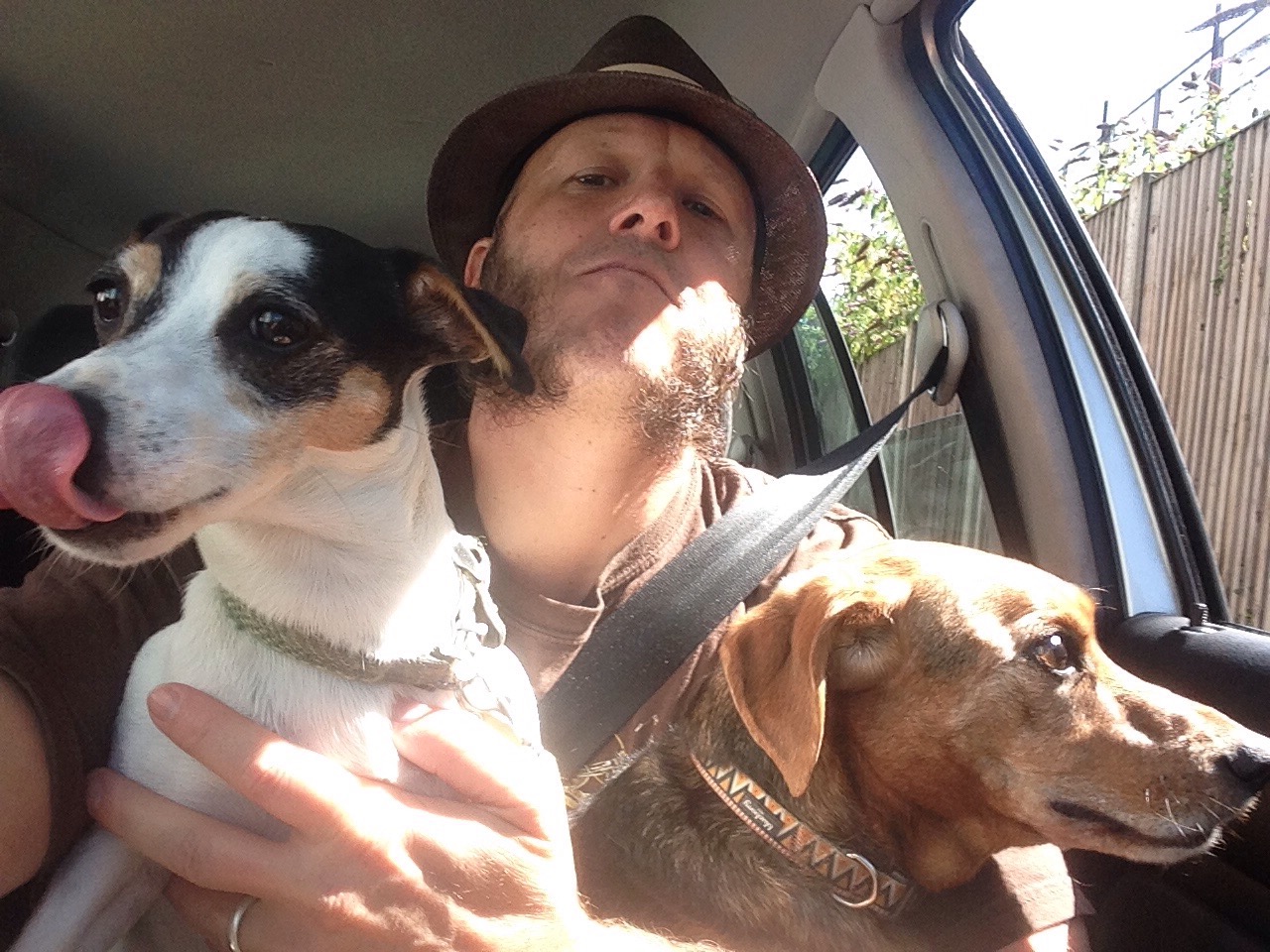 Did you enjoy spending time with me today and learning about my life? I sure had fun showing you!
Now if you'll excuse me, I have a bus to catch-- a water bus!
Bye Zoe and Nia! It was nice meeting you! Please thank your mom for introducing us. Be good!